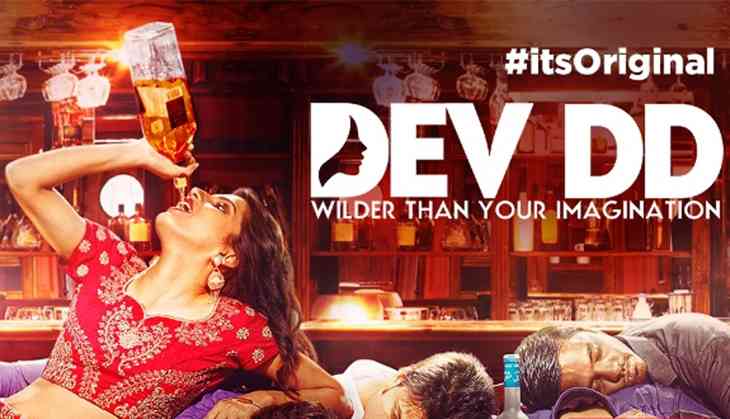 Women empowerment. These two words are getting thrown around more than Arvind Kejriwal's tampered EVM allegations these days. While there may or may not be any weight in what the Delhi CM has to say, unfortunately for women empowerment, the argument is treading troublesome terrain.
What ideally should have been defined by equal rights for women, equal opportunities in professional fields and educational scope is increasingly been relegated to the exceedingly trivial and surface. And these very trivialities are being spread far and wide through pop culture.
Popular culture is one of the most potent tools that can be used to propagate a bad idea, as well as, less seldom than Modi not taking a selfie, a good one. The 'empowered woman' ALTBalaji is selling in Dev DD is one such bad idea.
At the launch of ALTBalaji, producer Ekta Kapoor said, "Overall non-offensive or non-questionable content is not always a good thing."
She roped in Ken Ghosh to retell the story of Sarat Chandra Chattopadhyay's Devdas in Dev DD – "a female protagonist with a rock star attitude and solid convictions" as a statement described. And stars Aasheema Vardhan, Akhil Kapur, Sanjay Suri and Suneel Sinha.
And herein lies the problem.
What solid convictions are you talking about Ekta and Ken? This is just a rebel without a cause, and bratty behaviour being peddled off as 'feminism' and 'empowerment'.
Devika Dharam Dwivedi loves flashing her middle finger with great abandon, of course she loves the four-lettered expletive. She quickly hides her smokes and quarter of Old Monk as her mother enters the room, tries to get her to say the word bra out loud instead of calling it 'B', rolls her eyes as many times as she says f&*k and this is just the first five minutes of episode one.
Thanks to Dev DD you can draw a list of stock characters you need to define a disgustingly flawed idea of feminism –
– a gay best friend (lesbian in this case)
– a father who loves his little rebel of a daughter
– a mother and an aunt and a cousin who hate how 'liberal' the heroine is
– another rabble rouser of a hero who understands consent, somewhat
– a sleazy brother-in-law who tries to sleep with her
– a boy who spreads rumours about sleeping with the heroine
– the shopkeeper at a medicine store who can be startled often enough by requests for sanitary pads and condoms
So far, so terrible. This feminism to-do list is ploughed through in the first three episodes – titled Dev DD vs. Sri Kunt, Yeh Shaadi Cancel and Horny OK Please.
Devika takes nothing lying down, she attacks the to-do list stereotypes with an excellent sense of purpose. On good days, she is obnoxious and you want to slap her, on bad days you really, really want to slap her.
Her 'problems' are real and the solutions, even more so.
Problem 1: Dev DD gets hit on by her sleazy brother-in-law to be so she decides to 'expose' him and save her cousin from a bad marriage. But said cousin seems far too happy with a pink satin nightie in her bridal trousseau to want to see that her fiance is a creep.
Solution: So here's what Dev DD does, she calls him to her room, makes a video of him striping and humping the bed and eventually uses it to make sure he doesn't cancel the wedding.
Problem 2: Dev DD and her new bae have no place to have sex and they are horny AF.
Solution: She throws her best friend Chandni out of her own bedroom as she can do the deed. A lot. (Ekta Kapoor goes back to her soap-serial mode with a cheesy love song playing in the background as the kids get down to it.)
Problem 3: Dev DD barges into her best friend's room as she is making out with a girl and in all the loud apologies manages to get her friends mother in, who drops the pooja ka thaali in absolute horror of her daughter being a lesbian.
Solution: (They haven't gotten to that yet).
Her angry 'rebellion' and empowerment practice involves a barrage of cuss words, some neat swigs of rum, one joint, some smokes, one packet of Whisper that is flaunted, and a fruit salad of a condom selection.
It also involves another favourite word from the 'Feminazi Thesaurus' – privilege.
Devika can rebel without a cause because she is not deprived. She seems to have a decent education, her father seems to have enough money and well, he hasn't killed her yet.
The feminism and empowerment debate cannot turn such a blind eye to the privilege argument – it is high time this 'new-age' realises that. A girl born to a poorer family in Jaipur (where Dev DD is based) cannot 'afford' to do what Devika does with happy abandon – including making out all over the place.
Cussing, getting drunk in anger, not giving two hoots about a mata ka jagrata and having sex is not empowerment. Please. There are genuine issues out there and if you are going to show these to the kids, please show them something of worth.
The problem with the stereotypes is that Ghosh does not explore them at all. He relegates them to the sidelines. Ghosh gives you a mother who spews so much vitriolic hate at her daughter that you wonder if she is adopted (or worse maybe).
He gives you a best friend she rarely talks to and just seems to be using for her room all the time so as she can get laid. She also abandons her randomly outside malls after using her as an excuse to step out of the house.
There is no female bonding, they never talk and Devika, if nothing else, treats Chandni like a prop. How are they best friends again?
The boy in the picture has already shown streaks of misplaced masculine pride and seems to be quite a mama's boy...and we know what comes next thanks to the trailer.
Thanks for the cliches in the guise of 'path-breaking, offensive and questionable' content Ekta and Ken. We are still waiting for it to seem a little like Devdas though, three episodes and Devika hasn't even gotten drunk yet.