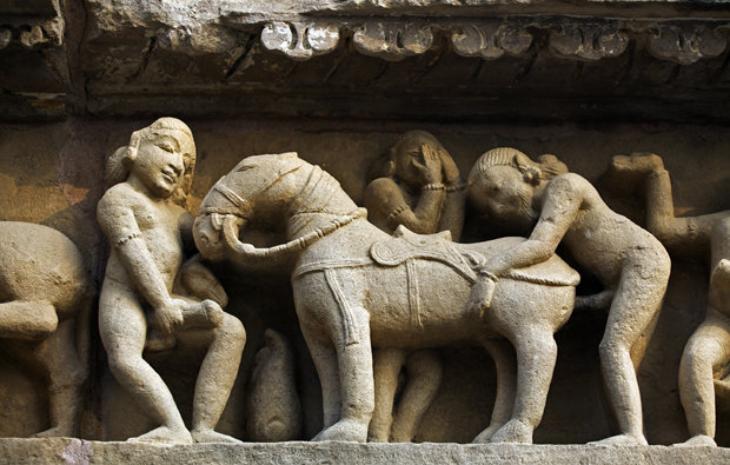 Malcolm Brenner is an author. His controversial book Wet Goddess, as the name suggests, is about sex, but not like you'd imagine it. It's no Mills and Boon romance, but an autobiographical take on his relationship with Dolly, a female dolphin.
Brenner is a self-confessed zoophile -- a person who is sexually attracted to an animal. Brenner's attraction for Dolly back in the 1970's was a lot more intense than for his human companions later in life. He resents the assumption that he raped the animal, for in his eyes, this was a love story.
Now before you reject Brenner, hear him out first. Because a documentary based on him titled Dolphin Lover in now available in full on YouTube. And Brenner talks directly to each one of us through this documentary.
How is bestiality different from zoophilia?
If one were to go by Brenner's distinction between the two kinds of 'animal lovers', we hit a basic problem. Because while bestiality is the act of having penetrative sex with an animal, zoophilia has many types. The distinction he probably is trying to make is that of zoophilia and zoosadism while clearly detaching himself from the latter.
According to The Journal of Forensic and Legal Medicine, there are in fact nine kinds of zoophiles, depending on how they engage with the animal. The categories mentioned are:
1. Human-animal role-players
2. Romantic zoophiles
3. Zoophilic fantasisers
4. Tactile zoophiles
5. Fetishistic zoophiles
6. Sadistic bestials
7. Opportunistic zoophiles
8. Regular zoophiles
9. Exclusive zoophiles
Popular culture would have us believe that sadistic bestial or those who rape the animal with intent to hurt, and opportunistic zoophiles or those who get involved with an animal because they have the opportunity, would be the most common kinds. The journal says not.
It further states that romantic zoophiles, zoophilic fantasisers and regular zoophiles are the most common kinds. This, of course, is in complete contradiction with how law and animal rights activists view sexual relations with animals.
Furthermore, there are compelling studies that suggest that zoophilia is actually natural, and completely not intentional. 
Andrea Beetz, who did extensive research in the field, has pointed out a fundamental issue in how 'zoosexuality' is seen. Most existing research is based on criminological reports, she states, and therefore, most of the documented evidence is of zoosadistic activities.
But how can one love different species?
Zoophilia, or at least whatever little we know of it, can be tricky. While Brenner admits to having had sexual interest in other non-aquatic animals while growing up, one major flaw that animal rights activists see in such a complex sexuality is this: It is one thing to be attracted to a certain kind of animal (like the male human or the female dog), how can zoophiles be interested in different kinds of animals? Isn't this just a matter of convenience?
But according to medical research, zoophilia further declassifies into: 1. zoophiles who like multiple species (including humans or not), 2. specific species or 3. don't like humans at all.
Should zoophilia be legal?
This is rather tricky.
While zoophiles might be the best care givers to their animal partners, there is no way to distinguish them from an animal abuser. Because there is no way to establish that the animal had consensual sex with them.
Animals cannot lodge police complaints, and unlike pedophilia, there are no parents or teachers to rescue the victim. They can be easily trafficked. In a country like Denmark, where having sexual intercourse with an animal is completely legal, sex trafficking is a huge business.
But there aren't many countries that have strict laws against bestiality. In 2013, Germany officially criminalised sex with animals, regardless of whether the creature was hurt or not during sex. In fact, many European countries are seriously considering legislating laws against zoophilia.
Curiously for India, the only law that indirectly criminalises sex with animals is IPC Section 377, the same law that looms heavy over the LGBT population in the country. Under this law, sex with a dog (whether consensual or not) isn't seen any differently from having a same-sex union.
And while we often fight against the 'homophobic' law citing examples from the free-sex murals in Khajuraho, we are yet to notice the stone art with horse and sheep sex. The world isn't ready for zoophilia yet, and unless animals start speaking (or there is compelling documented proof of the animal being in sexual love with the human), it would continue to remain a point of debate.