From 16-21 May, Delhi played host to the All Ladies' League(ALL)-Women Economic Forum 2016. The theme for the event was rather grand - "Women : Uplifting & Uniting The World". However, one of the performers at the recently concluded event, Andrea Smith, would beg to differ. Smith's experience was anything but uplifting, and instead of being 'uniting', left her feeling scared, shamed and alienated.
Smith, 40, is a performance artist who goes by the stage name Swingerella to tell the story of her survival. Her act - 'Swingerella's Dark Fairytale', a drag performance themed on homelessness and domestic violence - is provocative, but resonates very strongly with women's issues and empowerment.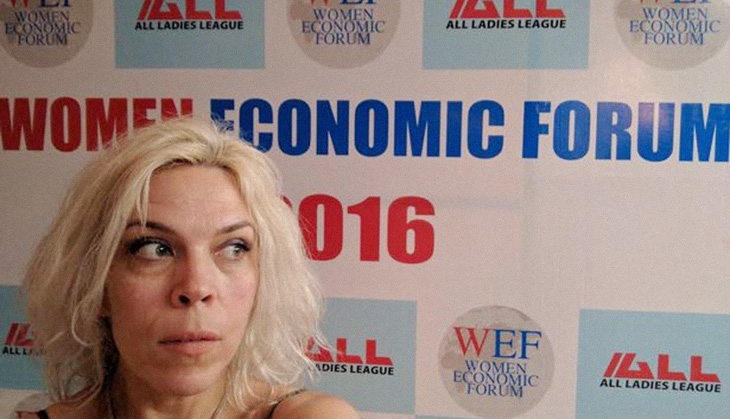 These are highly relevant subjects in a country like ours, something that absolutely any forum for women must discuss. Which is probably what led to WEF inviting Smith to perform at the event.
After her performance though, things took a turn for the worse.
The incident
According to Swingerella, her act, which shows the aftermath of rape, with her in torn clothes, her mouth sewn shut, injured and traumatised, was seen as 'indecent'. And this 'indecency', she alleges, was cited as a reason by WEF organiser Vinay Rai to threaten the British performer with police detention.
In a conversation with Catch News, Smith opened up about the incident. According to Smith, Rai, who hadn't even been present during her set, took offence to her performance when he watched it on playback. The real issue though, flared up when Smith questioned Rai as to why her performance videos were neither put up on the WEF YouTube page, nor were they handed over to her.
It was at this point, Smith alleges, that Rai got abusive. "He did not, however, approach me about this until 24 hours later on Friday night and even then only in front of others in the lobby very late at night to body shame me and talk in an abusive fashion," she said. All of this happened, Smith alleges, as Harbeen Arora, Rai's wife and founder of AALL and the Chairperson of the WEF, looked on.
"This was my first trip after being diagnosed with post traumatic stress disorder(PTSD)," said Smith, "I did not realise that it would contain all my triggers - being threatened by an abusive organiser [Rai] of a women's empowerment conference [All Ladies League/AALL - WEF2016] who also body shamed me in front of his wife, threatened to take my passport off me and said I would go to jail 'for a long time' for indecency. The same man who had invited me on stage the first night of the conference - until he found out what I had to say."
Smith claims that she was informed by friends that she would be detained by the police. Worried and scared, she claims she approached the British High Commission for protection, but when informed they could not help her, fled the country at her own expense.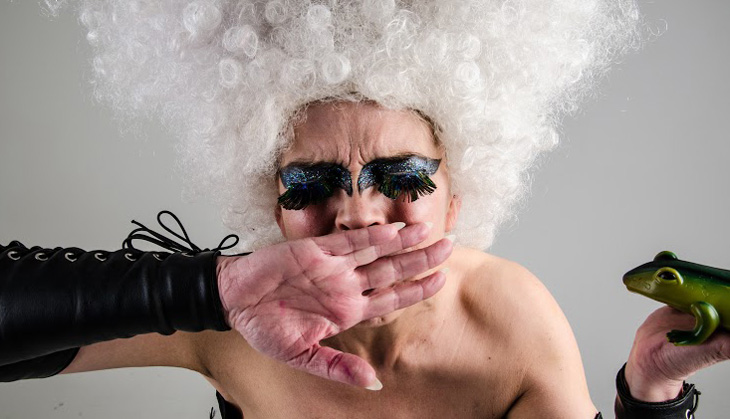 The WEF response
On Tuesday, Catch contacted WEF for a comment. WEF director Babita Bhan refused to respond over the phone and asked us to email her the questions. The email went unanswered for more than 24 hoursdespite repeated assurances from Bhan that she would respond. After this we sentindividual emails to both Harbeen Arora and Vinay Rai.
On Thursday morning, after a whole two days spent avoiding our phone calls, Bhan called us asking if it was possible for us to chat. She said that Smithperformed on 19 May and chose to stay on till 21 May, and that she left with the organisers.
When asked about the altercation, she said, "It was just about the YouTube video. We couldn't upload it. That's all."
On being asked why that would lead to such an extreme response from Andrea Smith, highlighting how she'd specifically said she was threatened, Babita Bhan said, "Usko feel ho gaya hoga." (She must have felt bad.)
"There was no threat of arrest. Nothing like that. She removed her clothes live on stage and some people got offended," she added.
"She was aggressive about the video not being up on YouTube. And she was told it can't go up because of our law. She knew nudity is not allowed in India."
She also asserted that any 'threat' made wasn't by Mr Rai or Ms Arora, but ratherthat it came from Smith herself. Bhan said, "She threatened the organisers that 'if you don't put my performance, it won't be good for you'."
But surely WEF knew what Smith's act comprised, right? "No," she says, "we weren't expecting it."
The irony of it all
Smith's version though, calls this into question."She [Arora] had not taken an educated decision to invite me to this conference when she clearly had YouTube links [to Smith's act] and emails in February - and even a picture of the opening scene where I have my mouth sewn closed," the artist said.
It does seem odd that a conference would invite a foreign performer, pay for her flights from and to the United Kingdom and put her up at a hotel for close to a week without having a clue about what her performance entails. WEF clearly have different standards though, because Babita Bhan seemed nonplussed about the whole incident.
Harbeen Arora's lawyer also came down to our office to convince us that this was not a story. Funnily enough, she seemed to have no clue about the incident at all despite her client having received a detailed email from us.
If Mrs Arora's lawyer seemed clueless, the Delhi police, went one better. The WEF 2016 - AALL programme was held at Novotel Aerocity near Indira Gandhi International Airport in Delhi. When Catch contacted the Airport Police Station, the police informed us that they did not know of the hotel, let alone the incident, even though it falls under their jurisdiction.
Whether things panned out exactly the way either party claims is up for debate. The incident though, does raise serious questions about the WEF and its organisers. How does a performer get selected despite her material being deemed not just aesthetically, but legally objectionable? How does an organisation that's meant to champion women's progress have such a lackadaisical response to an incident that throws the very fundamentals of the organisation into question? And lastly, how on earth does a forum where women are the focus be so at odds with the female form, especially when there's a much deeper, more serious and ridiculously pertinent message being conveyed?