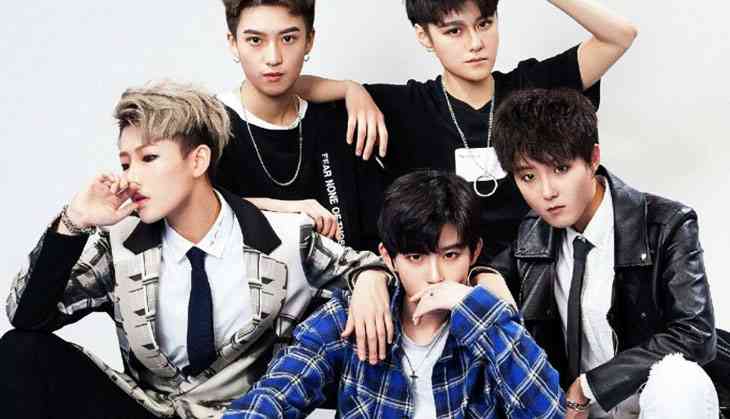 The handsome youths (Photo: Instagram/Acrush)
Ripped jeans, loose shirts, short hair, caps, and an air of self-awareness – Acrush, a new Chinese band, looks every bit the boy band that their popularity demands.
But Acrush doesn't identify as male or female. While the band comprises only girls, together they like to be seen as the gender-fluid 'meishaonian', meaning 'handsome youths'.
They satisfy every trope associated with boy bands though. The fandom is inexplicable, with female fans swooning over them, sending them love letters, etc. Their social media presence, with over 88k followers on Weibo alone, bears testimony to this popularity.
This becomes an even more remarkable feat when one realises that Acrush is yet to release a music video, one that's expected to be out end of this month.
'Husbands'
In China, it is common to call a popular male celebrity 'husband', a word that loosely replaces heartthrob in this case. One can say the fans are married to the objective of fandom.
Acrush, despite attempting to steer clear of gendered representation, have been elevated to the 'husband' status by their fans. The band also performed at a 'Husband Exhibition' organised by Tencent at Chinese universities.
The band's agent told Quartz that Acrush has a predominantly female following, ranging from teenagers to college graduates. He explains that perhaps the fans enjoy them as a boy band, but relate to them better because they're girls.
The band is also encouraged to engage with their fans on Weibo. "I ask them to reply every WeChat and Weibo message," the agent tells Quartz, adding, "They need to show gratitude [to fans]."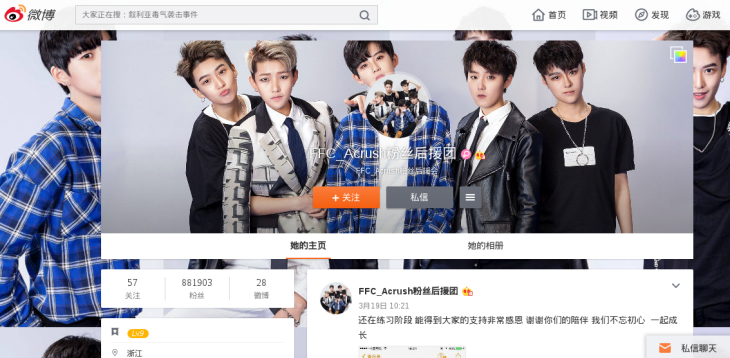 Acrush on Weibo
Gender fluidity
That an all-girl band is able to establish itself as anything other than 'sexy', or 'girly', or the range of gendered lenses girl bands are viewed through, is commendable. That the band is able to do this in China – a country that observes queer rights with respect to sexuality, but not to protect against discrimination – is fantastic.
There are currently no civil rights laws in China that address discrimination or harassment on the basis of sexual orientation or gender identity. By projecting themselves as androgynous, Acrush is sending a powerful message of resistance.
Mass appeal is a powerful tool, especially when it can directly influence popular culture – one that needs to recognise queer visibility, struggle and rights.
Acrush is a word made of two halves. 'A' standing for Adonis, a male Greek god known for his beauty, and, of course, crush.
By putting themselves out there, the members of the band, who have always sported short hair and comfy clothes, have established a new possibility. A space where popularity isn't dictated by one's genitals, but by one's self image. This respect for individuality is something all of us can appreciate.
21-year-old Acrush lead and singer Lu admits to having dealt with 'anti-fans'. Apparently 15% of their Weibo following exists to bully them.
Lu doesn't care "as long as they are happy".
Acrush is part of a brand called Fantasy Football Confederation (FFC), and are, therefore, formally called FFC-Acrush, as in all their YouTube videos. The FFC is yet another Chinese initiative to encourage sports. All members of Acrush, and every other band with the FFC, must learn to play football.
Now what sort of girl says no to football?