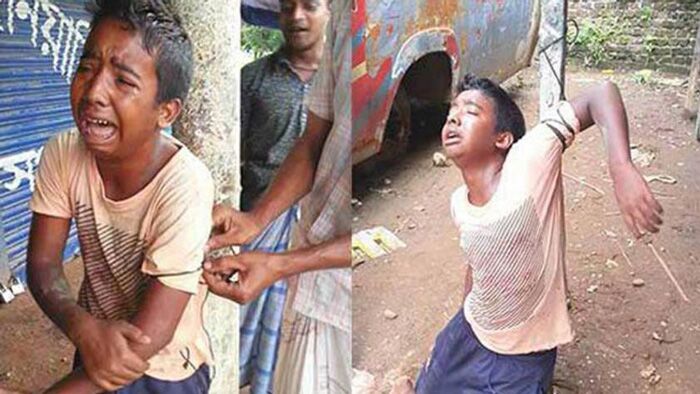 Protesters in Bangladesh are demanding a death penalty for the gang that had brutally beaten up a 13-year old boy to death in Sylhet.
Almost 15,000 people have also signed a petition to the government of Bangladesh, asking them to hand the perpetrators the "highest punishment possible" to discourage other such cases of murders and lynchings.
Boy was tied, tortured to death and filmed
The torture on the boy was filmed for almost half an hour. The gang had hit him with a metal bar after tying him with a rope.
According to the post-mortem reports, the boy died of brain haemorrhage after succumbing to 60 wounds on his body. The boy was a school dropout and used to sell vegetables to support his family.
Five suspects have been detained in connection with the murder so far.
Twitter reacts with disgust
On the death of 13 year old boy
Justice for Rajon is not enough, there must be positive and permanent change in the way we treat children in Bangladesh #JusticeForRajon

— SavetheChildrenBD (@SCinBD) July 14, 2015
Justice for Rajon has gone viral - This video will show you the reality of the inhuman world #JusticeForRajon http://t.co/dJm2J6CSbS

— Indiacom (@indiacom) July 13, 2015
.@mushfiqur15 protest against child abuse and the murder of 13-year-old Rajon #JusticeforRajon http://t.co/dU8929Qxkw pic.twitter.com/nZH5mhlxCf

— The Daily Star (@dailystarnews) July 13, 2015