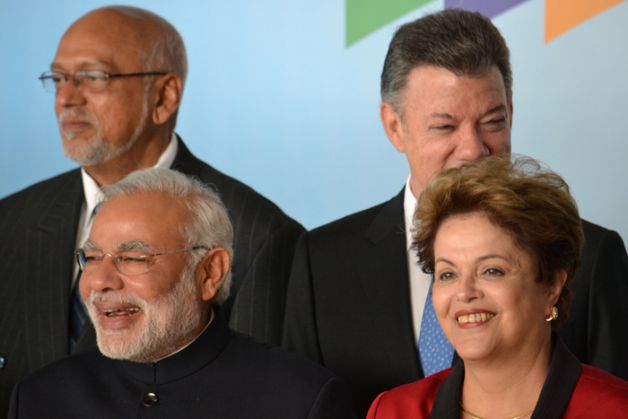 In a short 5 years, the BRICS countries, namely Brazil, Russia, India, China, and South Africa have become a powerful global body to be reckoned with. But do you know all there is to know about it?
Here's a quick look into the cluster of countries whose combined GDPs surpass that of the European Union's.
The idea behind it
In 2001, the then-chairman of Goldman Sachs, Jim O'Neill coined the acronym (BRIC) for the newly industrialised and fast growing economies. However, the first move towards a formal collegium took place in 2006, when Foreign Ministers from the BRIC countries met at the margins of General Debate in the UN General Assembly.
Starting with a crisis
The BRIC nations first formally met in 2009, in the aftermath of the 2008 global economic crisis. One of the first announcements was on the need to harvest a more 'diversified, stable and predictable' global reserve currency. This immediately led to a fall of the US Dollar against major currencies.
Welcome, South Africa
South Africa formally entered BRICS in 2010, adding an 'S' to the acronym. Together, BRICS countries are home to 3 billion people, or approximately 40% of the world population. The nations have a combined GDP (nominal) of almost $16 trillion, more than that of the European Union. The combined foreign reserves of the countries is around $4 trillion. The nations' combined vote share in the IMF is 11%.
BRICS' Delhi Declaration
The idea of a BRICS bank was put forward by India at the 4th BRICS Summit held in New Delhi in 2012. In another blow to the US Dollar, the 'Delhi Declaration' also paved way for the countries to trade in local currencies.
The vision of a New Development Bank and where it stands today
In 2014, at the Brazil summit, the BRICS countries formally signed a pact to launch a $100 billion bank titled New Development Bank (NDB) and a Contingent Reserve Arrangement (CRA) worth another $100 billion.
China will make the biggest contribution towards the bank -- $41 billion. India, Russia, and Brazil will contribute $18 billion each, and South Africa will provide $5 billion. Annually, the bank will have a lending capacity of $34 billion.
Unlike the IMF, all countries will be given an equal vote. Members cannot increase their capital share without a consensus. New members can join the Bank, but the BRICS' combined share will not be allowed to go below 55%.
Contingent Reserve Arrangement
Along with NDB, BRICS also agreed upon a Contingent Reserve Arrangement -$100 billion buffer against economic instability in any of the countries. This will function as an international foreign exchange reserve for BRICS, which can be accessed during a crisis.