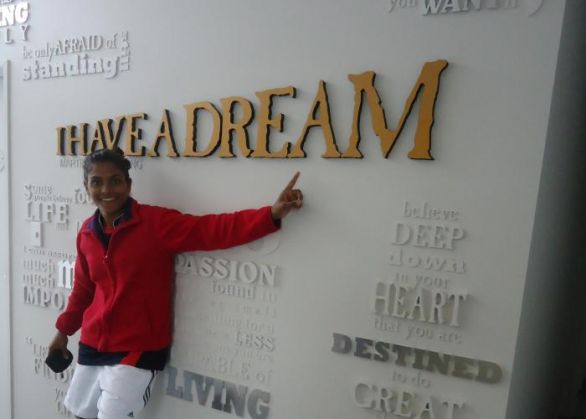 For Aditi Chauhan, it was all going according to plan at West Ham. Since signing for the club back in August, the Indian international took no time in establishing herself in the first team.
Her performances didn't go unnoticed, and in only three months' time, she was awarded the Women in Football accolade at the 3rd Asian Football Awards in London.
However, the 23-year old goalkeeper now finds herself in the midst of a visa wrangle, which has thrown her career at West Ham Ladies into doubt.
Aditi, who is currently on a student visa in England, will see it expire in January. With West Ham, a third-tier club in the English women's football structure, not allowed to sponsor Aditi's visa, the goalkeeper may not be able to finish her season at the club.
Aditi's brother Aaditya recently filed a petition on Change.org, urging the Indian authorities to help the player in securing a work visa. The petition has so far garnered over 11,000 signatures.
The player recently spoke to Catch about the uncertainty surrounding her West Ham career. On Friday, 25 December, Aditi's father, Abhay Vir Chauhan, shared with Catch his views on the visa situation.
'A very disappointing situation'
"She can't play for a top-two tier club because she has a student visa. On the other hand, because third-tier clubs aren't recognised as professional outfits, West Ham Ladies cannot sponsor Aditi's visa. It is a very disappointing situation," he lamented.
For Aditi Chauhan's family, it has been a difficult time. Chauhan Sr. says his wife has written to the Ministry of External Affairs, but is yet to receive any positive response.
"At the moment, she needs a sponsor. We have spoken to the All India Football Federation (AIFF) and the Sports Authority of India (SAI) as well, but they have said that they can't be of any help because of the existing rules and regulations in England," he added.
"When Aditi signed for West Ham, she was quite hopeful that somebody would come and help, but that has not been the case so far. She still remains hopeful of a solution to this situation," says Abhay Vir Chauhan.
Appeal to MEA and possible sponsors
Aditi's career at West Ham now hinges on whether she can find a sponsor for her visa in England. As things stand, only a few entities can do the needful. Among others, West Ham United FC (parent body of West Ham Ladies), a few Indian companies with ventures in England (Tata, Reliance, etc.) can come to Aditi's help.
The Ministry of External Affairs (MEA) could also help Aditi in applying for an exceptional talent visa. With the footballer yet to receive any help from the few parties in a position to assist her, Aditi's father has made an appeal for help.
"When it comes to India, cricket is de facto the number one sport. It's difficult to make a career in football, even more so for a goalkeeper as there is no proper coaching structure for players. For a woman to go ahead and do exactly that is something really commendable.
"During her initial days, we had to travel long distances for her coaching. Aditi has done almost everything on her own. She has gone on to make it to the national team, her university team, and now a football club in England. If nobody comes up to help her now, it wouldn't set a very good precedent for the upcoming women footballers in the country," Chauhan Sr. said.
'Don't want money from anyone'
Making it clear that monetary benefits were not something his daughter was looking for, Chauhan Sr. said that he was ready to pay for Aditi's sponsorship.
"I am ready to pay for her sponsorship. I don't want any money from anybody, but the rules are such that I can't help her on my own," Chauhan lamented
Chauhan expressed his shock and disappointment at the FA laws which do not allow women's football clubs below the second tier to pay their players or sponsor their visas. "I find it hard to see how they expect the players to keep themselves motivated in such situations," he said.
With Aditi's visa expiring in just over a month's time, it remains to be seen whether she manages to continue what has been an impressive career at the English club.
You can sign the Change.org petition here.