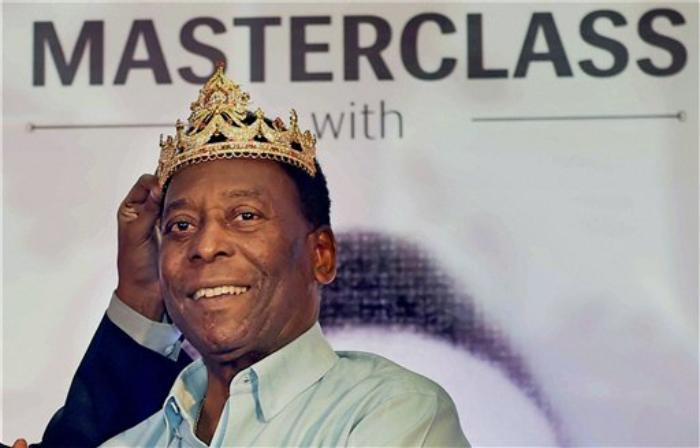 Brazilian football great Pele thanked the City of Joy as he concluded his three-day Kolkata trip with plenty of memories.
"I hope to come back again... Thank you Kolkata," Pele said on Wednesday, 14 October.
The three-time World Cup winner wrapped up his sojourn in Kolkata and headed to Delhi, spreading the message to "stay healthy" as he supported a cause for blood cancer patients.
"He gave a photo-op to formally inaugurate a leukaemia department at our hospital," an official of Apollo Hospital told PTI.
There were a host of VVIPs who made a beeline to his hotel to collect his prized autograph and the legend tried his best to oblige them.
"He gifted me a signed football and a jersey which I will cherish forever. Meeting him was like coming 'closer to the God'. He brings so much of positivity even at this age," Cecil Antony, chief mentor of NSHM Knowledge Campus, who was one of the organisers of the Brazilian's trip to Kolkata, said.
Describing his trip as a memorable experience like the last time, Pele, in his official Twitter handle, wrote: "The love that I have received has been beautiful, just like I remember from 38 years ago during my last trip here."
"I want to thank god for giving me the opportunity to travel this distance, for only the second trip of my life to India."
Unlike his last visit in 1977 when he had come with his team New York Cosmos to play an exhibition match with Mohun Bagan, the 74-year-old's visit this time was much subdued and he refrained from getting on to the ground due to his surgery earlier this year.
But the three-time World Cup winner ensured he left a lasting impression. He was the guest of honour in Atletico de Kolkata's first home match, which they won 2-1 against Kerala Blasters FC in the ISL yesterday.
-PTI