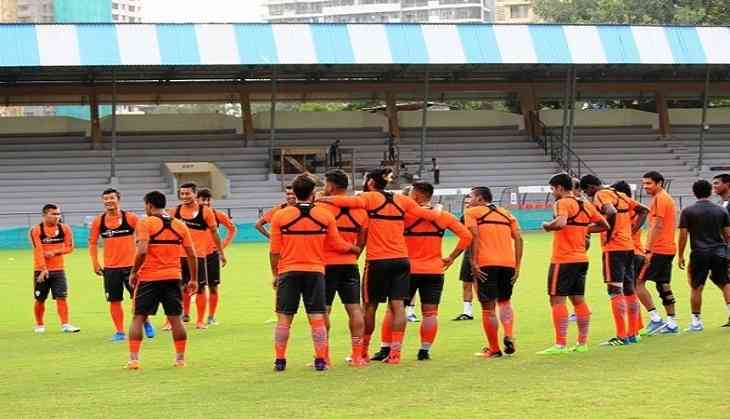 Ahead of India's first match against Mauritius in the Tri-nation International tri-series in Mumbai, national football coach Stephen Constantine has insisted that despite the recent good run, they are not in a position to overestimate their ability.
"We take each game as it comes. We are not in a position to disrespect our opponent or overestimate our ability. We are a very hard working team and have developed the spirit in the team. We won't be giving in, no matter what. I keep telling the boys that we haven't yet achieved our goal," Constantine said.
The Indian men's football team is slated to play two international friendlies against Mauritius and St. Kitts and Nevis ahead of AFC Asian Cup UAE 2019 qualifiers.
The national team is on a roll having won 13 of their last 15 matches (including one unofficial friendly match against Bhutan in 2016).
Constantine, however, refused to underestimate their opponents, saying that they are an experienced team and that India would surely face a stern test against them.
" Mauritius are a Team that plays in the CAF and you can never underestimate any Team who play there. Having been there, I am aware of the level of which one plays there. They have some experienced and it will be a stern test for us,' the national coach said.
"The same goes for St Kitts as a team. They hail from the Caribbean region and are strong, athletic, fast and most importantly, know to play the sport. Regardless of the FIFA Rankings, both are very tough opposition. It's the test which we need prior to our match against Macau," Constantine added.
When quizzed how important is the two forthcoming International Friendlies for the Indian team, Constantine insisted that the back to back games would be immensely valuable for the side ahead of the qualifiers.
"I have always advocated for us playing an International Friendly before a Qualifier, and this time as we have the time and the season hasn't started as yet, we have been able to squeeze in two. I thank my colleagues in the AIFF for arranging that,' he said.
"The back to back games will be immensely valuable for us to get back into the groove. It always takes a bit of more time when the boys are coming back from a layoff. These two games are immensely important," Constantine added.
India will resume their campaign in the AFC Asian Cup 2019 qualifiers on September 5 when they get set to take on Macau in an away match.
-ANI