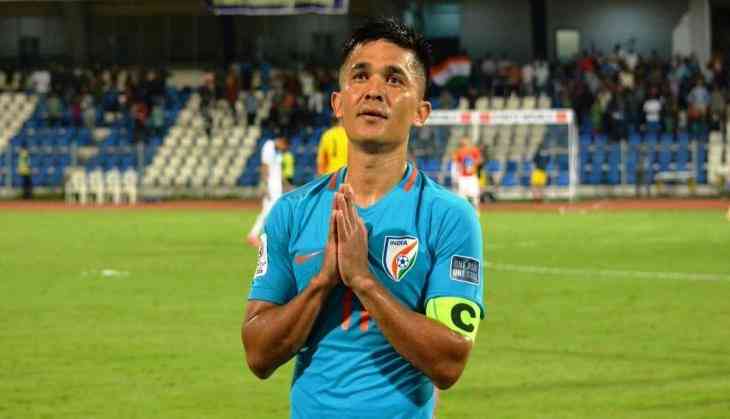 Indian national football team skipper Sunil Chhetri, who recently surpassed star Barcelona striker Lionel Messi in the highest scoring active player's list, on Monday said that he never thought that he would play so many matches and score goals for his country.
Chhetri said that when he made his international debut against Pakistan in 2005, it was all about playing for his country and he never thought of anything else even in his "wildest fantasies." He credited his teammates for helping him grow throughout his career.
"Never, not even in my wildest fantasies, I thought that this would happen to me. Playing for my country the very first time was so enjoyable, memorable and nothing less than a great honour. But, I never thought that I would go on to play so many games and score goals for India," AIFF quoted Chhetri, as saying.
"I am blessed to have played the game with the best of the teammates-both for all my clubs and Country. Both in Bengaluru FC and India, everyone helps me out. They support me and that is very important. I just try to continue doing the best for the team and the result follows," he added.
Talking about India's 4-1 win over Thailand in their opening match of the ongoing AFC Asian Cup, Chhetri said that the victory was a "decent one" and the team members need to focus on their next match of the tournament, which is against the UAE.
"It (the tournament) is not done yet and nothing has been achieved so far. It was a decent win but just one win, no more or no less. We have to focus for the 10th, the match against hosts UAE. It will be a very difficult game. If you ask me-without taking anything from Thailand, the least difficult one among the three matches was against Thailand," Chhetri said.
"The most difficult game one will be against the UAE and lest we forget, Bahrain will be equally tough for us. We are concentrating on the next one now and we need to give a good account of ourselves," he added.
India are slated to take on the UAE in their next clash of the Asian Cup on January 10.
-ANI