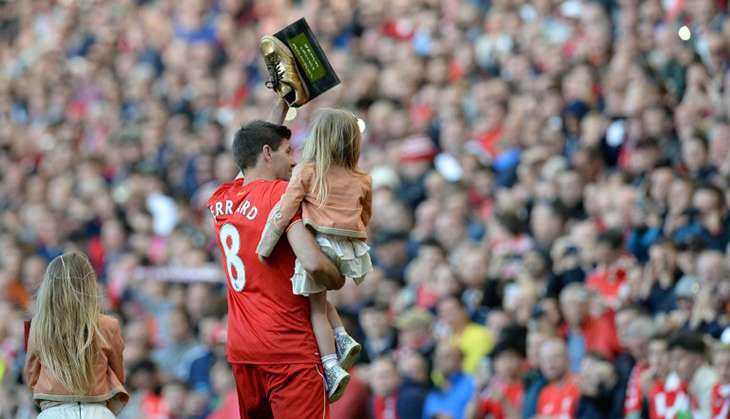 The former Liverpool and England captain Steven Gerrard on 24 November hung up his boots, ending a 19-year-long playing career. Gerrard made 710 appearances for Liverpool, scored 186 goals and won eight major trophies, including the Champions League in 2005, before joining the MLS side LA Galaxy in 2015.
Gerrard retired from international duty following a group-stage exit under Roy Hodgson at the 2014 World Cup.
Confirming his retirement, Gerrard was quoted by a leading daily as saying, "Following recent media speculation surrounding my future I can confirm my retirement from playing professional football. I have had an incredible career and am thankful for each and every moment of my time at Liverpool, England and LA Galaxy."
Before his retirement, Gerrard won his last match 5-1 against Colorado Rapids in the MLS on 6 November.
Gerrard, England's fourth most-capped player, represented his country on 114 occasions and captained England at three major tournaments. He has two FA Cup to his name and remains the only player to have scored in an FA Cup, League Cup, Champions League and Uefa Cup final.
He made his international debut against Ukraine at the old Wembley in 2000, and scored his first international goal against Germany a year later - the much victory of 5-1 Olympiastadion in Munich.
Excerpts from the interview posted online by BT Sport:
"The way you feel on the pitch changes and over the past couple of years I felt myself slowing down a little bit on the pitch. The body starts talking to you, the pains and the aches get more regular. I can't deliver what I used to be able to deliver and as time goes on that's frustrating."
"My last three or four months I was getting too many injuries, the games were becoming more challenging and the travel was starting to affect me. I've had a few moments over the past few months where I thought 'I didn't play that well today' or 'that guy got the better of me today'.
"I've listened to people over the years, important people in the game who I trust and have a lot of respect for, and they said to me: 'Always go with a tiny bit left and never overstay your welcome and play on too long where it becomes embarrassing.' I can feel that's not too far away so now is the right time [to retire]."
"As a teenager I fulfilled my childhood dream by pulling on the famous red shirt of Liverpool, and when I made my debut against Blackburn Rovers in November 1998 I could never have imagined what would then follow over the next 18 years."
"I feel lucky to have experienced so many wonderful highlights over the course of my career. I am proud to have played over 700 games for Liverpool, many of which as captain, and to have played my part in helping the club to bring major honours back to Anfield, none more so than that famous night in Istanbul."
"At an international level, I feel privileged to have won 114 England caps and to have had the honour of captaining my country. I will always look back with great pride at every time I pulled on the England shirt. I feel very fortunate to have had the career I've had but none of it would have been possible without the support of so many people.
"Firstly, I would like to thank everyone at Liverpool Football Club. I am proud to have played for and captained Liverpool for so many years and to have achieved what we achieved during my time at the club. I was lucky to play alongside some great players and under some fantastic managers during my time at Anfield and would like to thank each and every one of them, as well as all of the backroom staff at the club throughout my time there for the fantastic support they showed me.
"I would like to say a special thank you to Steve Heighway, Dave Shannon and Hugh McAuley for believing in me when I was making my way at Liverpool and for giving me the platform to go on and fulfil my dreams. Thank you to the amazing fans of Liverpool, England and LA Galaxy for the incredible backing you have given me throughout my career. Your loyalty and support has meant the world.
"I am excited about the future and feel I still have a lot to offer the game, in whatever capacity that may be. I am currently taking my time to consider a number of options and will make an announcement with regards to the next stage of my career very soon."
"It [Liverpool] means the world to me. I've got a lot to thank them for. I think I would like to do a bit of both [coaching and punditry], in the future I definitely have dreams and aspirations of having a go at management, or assisting the manager, and being back involved in the dressing room - but I've got many, many years to do that."
However, Gerrard was linked with filling up vacant managerial posts Celtic and overseas in Serie A. Commenting on which, Jamie Carragher, Gerrard's former Liverpool and England team-mate, said that it is a "matter of time" before Gerrard takes on a management role.
Klopp, the Liverpool manager, said last month that Gerrard, who was named as club captain in 2003 by Gérard Houllier, "is always so welcome" at the Premier League club. "You cannot imagine how welcome so absolutely no problem, but everything we will talk to each other about will stay in these talks. "
"That is how I know Stevie and that is how I am. Nobody should be worried that we don't have space for Steven Gerrard. Everything will be fine, 100%."