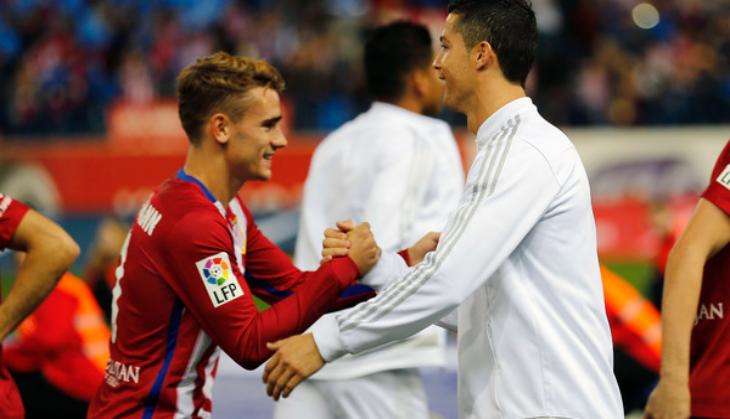 After being named this year's UEFA's Best Player in Europe, Portugal star striker Cristiano Ronaldo has insisted that Atletico Madrid forward Antoine Griezmann deserved the coveted trophy more than him.
"As I said on the stage, he [Griezmann] deserved to win this trophy. He lost two finals so it was unlucky for him but I think he's a fantastic player, he's a good boy, he's my neighbour - he lives next to me - and he deserved it," the Portuguese international said.
Ronaldo bagged the gong after inspiring Real Madrid to the Champions League glory with a 5-3 win over Atletico Madrid in a dramatic penalty shootout before winning Euro 2016 with Portugal following a 1-0 win after extra time against host France.
Ronaldo, however, was hopeful that Griezmann would surely clinch the award one day, goal.com reported.
The 31-year-old, a three-time Ballon d'Or winner, insisted that he is also hoping to clinch his fourth Ballon d'Or, while thanking all his team-mate for helping him in winning so many trophies.
"I hope to win the Ballon d'Or but let me enjoy first this trophy. It's amazing. I wish to win tonight and I'm so proud. I have to thank you to my team mates - Real Madrid and national - because they helped me a lot to win these trophies, he said.
The Real Madrid striker, who has been out of action since injuring his knee in the successful Euro 2016 final, is expected to make a return in Saturday's match against Celta Vigo at the Santiago Bernabeu.