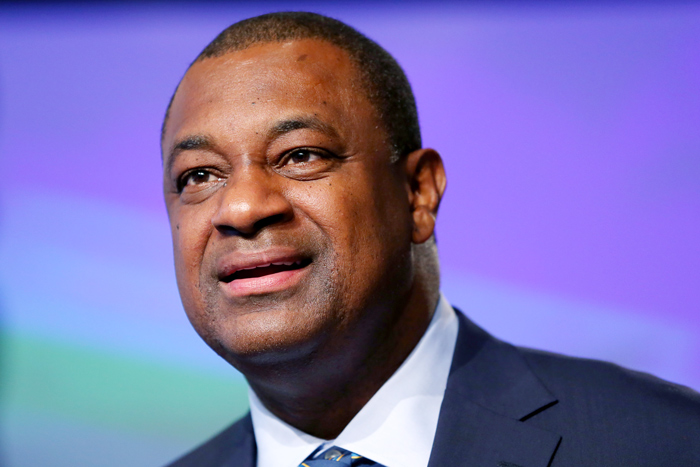 Jeffrey Webb, former FIFA Vice President, who was arrested along with six other top FIFA executives in a late-May raid on a Zurich hotel by Swiss law enforcement officials, has been extradited to the US, the New York Times reported on Thursday, 16 July. Webb was one of the fourteen FIFA officials to be indicted by the US Department of Justice on charges of widespread corruption for years, and is the first of the seven arrested in Switzerland, to be handed over to the US. Webb was the only one among the seven to have agreed to being extradited to the country.
Allegations against Webb
Charges against Jeffrey Webb include racketeering, wire fraud and money laundering. Along with other top FIFA officials, he is accused of facilitating media deals with sports marketing companies for major football tournaments, in exchange for bribes and kickbacks from the executives of the companies. Webb, who was the president of Confederation of North, Central America and the Caribbean Football Association (CONCACAF) and Cayman Islands Football Association (CIFA), was suspended from both bodies following his arrest. Alfredo Hawit replaced him at CONCACAF, while Bruce Blake took over from him at CIFA.
Jeffrey Webb factfile
A Cayman Island national, Jeffrey Webb received his higher education in the US. After years of experience in football administration, he was appointed as the Deputy Chairman of the FIFA Internal Audit Committee in 2002. In 2011, he was appointed the chairman of the body. A year later, he was elected president of CONCACAF. Courtesy of his position at CONCACAF, he was appointed as a vice-president at FIFA, and inducted into its Executive Committee.
At FIFA, he led an anti-discrimination taskforce after being appointed the chairman of the group by FIFA President Sepp Blatter. Months before his arrest, he had called for the publication of the Garcia report, a FIFA-commissioned investigation into the bidding process of the 2018 and 2022 World Cups.