Rohan Raj
| Updated on: 10 February 2017, 1:46 IST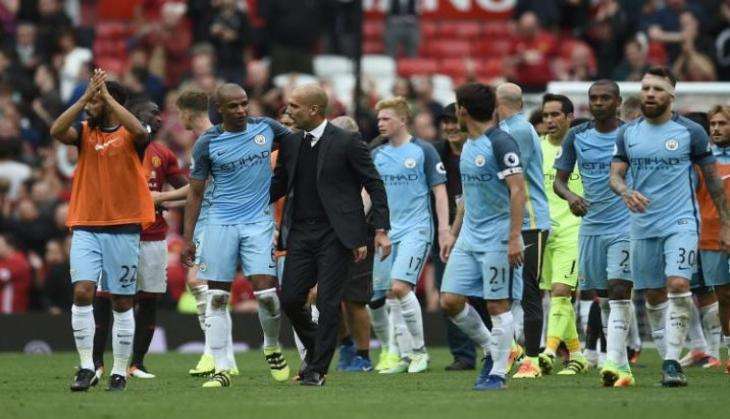 In what turned out to be an enthralling Premier League encounter, Manchester City defeated their city neighbours and arch-rivals United 2-1 as Pep Guardiola drew first blood in his renewed rivalry with old adversary Jose Mourinho on 10 September.
Kevin De Bruyne's composed finish and Kelechi Iheanacho's tap-in placed Guardiola's men on top in the first half that saw a flurry of attacks from the visitors.
Mourinho's side was handed a crucial lifeline just before half-time when City's debutant goalkeeper Claudio Bravo dropped a free-kick, allowing United forward Zlatan Ibrahimovic to pull one back for his team.
It was Premier League football at full throttle with City dictating terms in enemy territory for majority of the first half. It was a magnificent first 40 minutes of clinical passing and movement that completely shut United's midfield.
The hosts paid dearly for allowing City to control the game as Mourinho's men did not engage their opponents until they crossed the halfway line. By the time City crossed into the United half, the likes of De Bruyne and David Silva were in full flow with the Red Devils stretching to control them.
City's lethal movement and accurate passing earned them an opening goal through De Bruyne in the 15th minute. More than the goal, the manner in which it was scored was definitely disorienting for the hosts. For once, they tried to press their opponents back in their own half... And failed.
With tempo on their side and a sequence of errors from United's defence, City found their second goal in the 36th minute through Iheanacho's simple finish. De Bruyne, who was allowed to turn and shoot in the United box, managed to hit the post with Iheanacho waiting to make it 2-0 for City.
For a team that was set up to counter-attack, United were two goals down early in a game that Guardiola's side was dictating. But, the heavily-packed Old Trafford crowd came back to life in the 40th minute as Ibrahimovic pounced on Bravo's error following Wayne Rooney's free-kick in the 41st minute.
The second half saw a much-improved performance by United with Marcus Rashford adding the pivotal pace to their attack. Rashford almost came close to scoring the equaliser for United but his goal was disallowed after Ibrahimovic strayed into an offside position.
The hosts mounted an aerial siege to find the all-important equaliser but City stood their ground. United didn't have much of a gameplan - other than lumping it forward - and Guardiola' men withstood the barrage of long balls exceptionally well.
It was a well-deserved victory for City who secured their 50th Manchester derby win in all competitions. The result also dented Mourinho's personal record against Guardiola - who now stands at eight wins and six draws in 17 meetings.
City continue to lead the pack with 12 points following four wins in as many games. United, on the other hand, are currently placed third with nine points to their name.