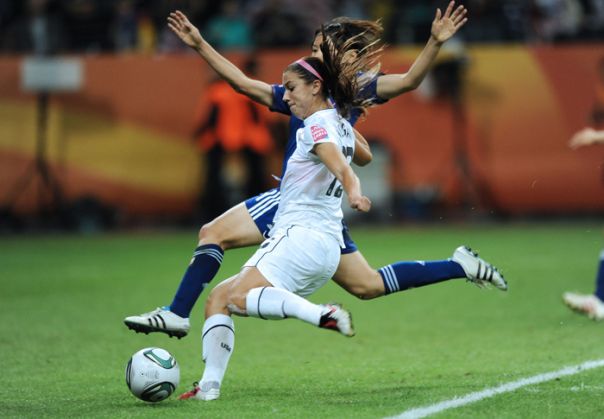 Defending world champions Japan narrowly edged past England in the second semi-final of the FIFA Women's World Cup on Wednesday in the most dramatic circumstances, to reach one step closer to a successful defence of their 2011 Word Cup title. With the US having breezed past pre-tournament favourites Germany, a day earlier in the first semi-final, the title decider will be a rematch of the 2011 World Cup. Four years back, at the same stage, Japan had won their first World Cup title after beating favourites USA in penalties in the final.
Third straight major final between the two sides
A year after their heartbreaking defeat in the 2011 World Cup final, the US faced Japan once again in the Gold Medal match of the London Olympics. This time, the Americans managed to get back and beat Japan by a narrow margin of 2-1. This makes the 2015 World Cup final the third straight final of a major tournament to have Japan and the US as opponents.
Contrasting semi-final wins and a self goal
Both sides had contrasting wins in the semi-final stage. The US completely shut out a German side boasting of the best attacking force in the world. In fact, the European giants managed only one shot at the goal through the entire 90 minutes. Japan, on the other hand, were extremely lucky to beat England in the semi-final. With England dominating proceedings for most of the game, defender Laura Basset inadvertently put the ball into her own net in second half stoppage time to hand Japan a place in the final.
Japan unbeaten, but USA start as favourites
For the US, the 2011 World Cup final brings back haunting memories. The team had missed a plethora of chances in the first half, and after failing to protect their lead on two occasions, was ultimately edged out on penalties. This time, however, the Americans will be confident of burying the ghost of 2011, after an impressive campaign which has seen them concede only one goal throughout the tournament. The Japanese, on the other hand, have stumbled their way into the final, winning all their games by one-goal margins, although to their credit, they do have an unbeaten record in the competition. With the US peaking at the right time in the tournament, and having an almost-unblemished defensive record, Japan will have its task cut out in the final.
2015 FIFA Women's World Cup Final on Indian Television: 4.00 am at Sony Kix on Monday, 6 July 2015.