Watch: Great white shark spotted in Majorca seas off Spain's coast first time in 30 years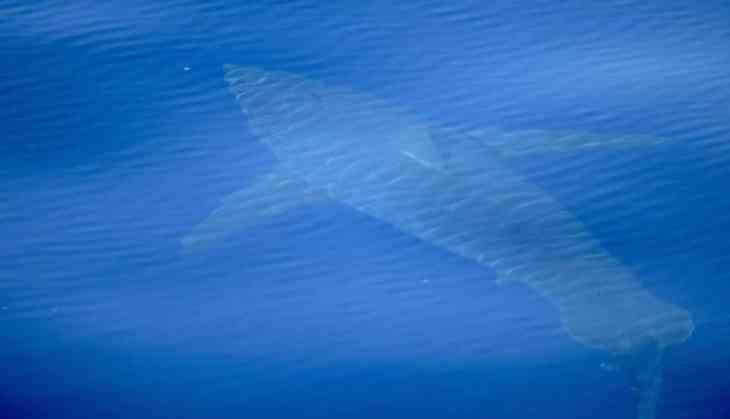 For the first time in at least 30 years, a five-metre predator white shark was spotted near the Balearic Islands in Spain. It was spotted on Thursday by conservation workers when it swam across Cabrera archipelago national park. White shark was last spotted in 1976 in Spanish waters. But this was the first time that scientists managed to track the shark for over an hour.
Documentary director Fernando Lopez-Mirones said, "We saw a black fin and straight away could see it was a very big shark," He even added that the conditions in the sea were amazing and they had the specimen around three metres from the boat, and they could watch it up close for 70 minutes.
Great White Shark with Divers. pic.twitter.com/klNgrzwsWg

— Nature's Lovers (@natureslover_s) June 26, 2018
The white shark spotted in 1976 was nearly six-metre and spotted off the northern coast of Majorca.
Amazing view of great white shark 🦈 pic.twitter.com/5Dr3LLOFWD

— wild Nature (@wildNature_) June 24, 2018
One of the conservation group that records data on sperm whales, turtles and other wildlife shared the information of seeing the shark on its social media page. He even hared a photograph of the shark and even mentioned that very soon he would share video.
Flash back to a Combo tour last year! A very curious Great White Shark 🦈 #portlincoln #sharkdiving #cagediving pic.twitter.com/hweNmQUJMu

— Calypso Star Charter (@sharkcagediving) June 27, 2018
In a documentary based on the history of the great white shark was recorded in 2007. It showed that around 27 of them were caught in between 1920-1976.
Also Read:As the search for 12 young soccer players lost in a cave hits day 5, Thailand holds its breath