No violations of Air Act in polluted Delhi. This and more shocking NCRB data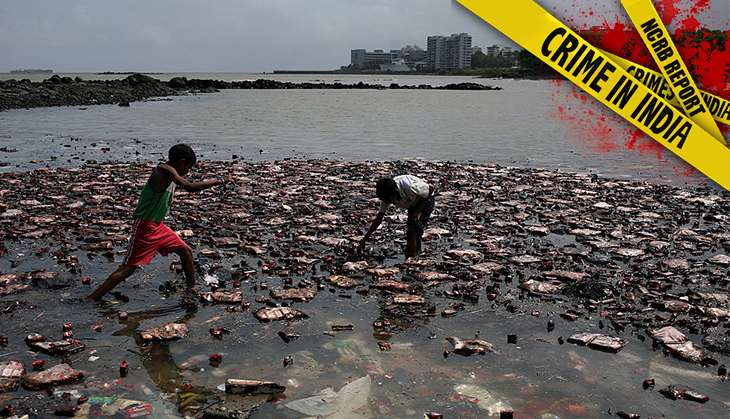 The number of environmental crimes in India fell by 12% from 5,846 in 2014 to 5,156 in 2015. The data is released annually by the National Crime Records Bureau, which compiles information from state bureaus, which, in turn, compile it from police stations where crimes are first registered.
Environmental crimes are those offences that are filed under any of the following five laws - Indian Forests Act, 1927, Wildlife (Protection) Act, 1972, Environment (Protection) Act, 1986, Air (Prevention & Control of Pollution) Act, 1981 and Water (Prevention & Control of Pollution) Act, 1974.
Ideally, such data should give one clues about environmental regulation in the country, besides regional and temporal trends.
But the crime data raises more questions than it answers. Zero environment crimes were registered in five states - Meghalaya, Nagaland, Odisha, Sikkim, and Tripura - and four union territories, including Puducherry. Can that be true, especially in mining-rich Odisha?
Delhi, where air pollution had reached "hazardous" levels each winter, had zero crimes registered under the Air Act.
Under the Water Act, just 10 cases were registered in the whole country, even though the pollution of water bodies is a major concern.
Forest-rich states, such as the ones in the Northeast, and Goa, have zero crimes under the Forest Act.
Here are more (counterintuitive) figures from the NCRB report.
The number of court cases being fought by the Central Pollution Control Board.
Forty of these cases are in the National Green Tribunal alone.
This gives an idea about the number of violations actually observed on the ground. The CPCB's mandate largely includes implementing the Air and Water Acts. Remember, these numbers do not include the state pollution control boards, which take the actual burden in the states.
Number of environmental cases registered in Rajasthan, according to the NCRB report. This is 40% of the total cases filed in India.
Such cases are usually of removing timber or forest produce from forests.
The state has 27 lakh hectares of forest, 4% of India's forest area but 47% of cases under the Indian Forests Act, 1927.
These offences make up 88% of Rajasthan's environment cases.
Number of environmental cases registered in Uttar Pradesh.
This is 34% of the total environment cases in India. This means that Rajasthan and UP together constitute three-fourths of all environment crime in India.
Like in Rajasthan, a large share of the cases in UP are under the Forest Act.
The number of cases registered under the Wildlife (Protection) Act, 1972. These include cases of poaching.
Half the cases are registered in Rajasthan and Uttar Pradesh.
Zero cases were registered in states like Bihar, Goa, and states in the Northeast.
Edited by Shreyas Sharma
More in Catch
India has no manual scavengers. Or that's what NCRB data shows
NCRB data shows that in 2016, India is still no country for women
India's cyber crime menace: 20% spike in 1 year, 2000% in a decade: NCRB
Custodial deaths on the rise, but cops hardly convicted: NCRB