India has no manual scavengers. Or that's what NCRB data shows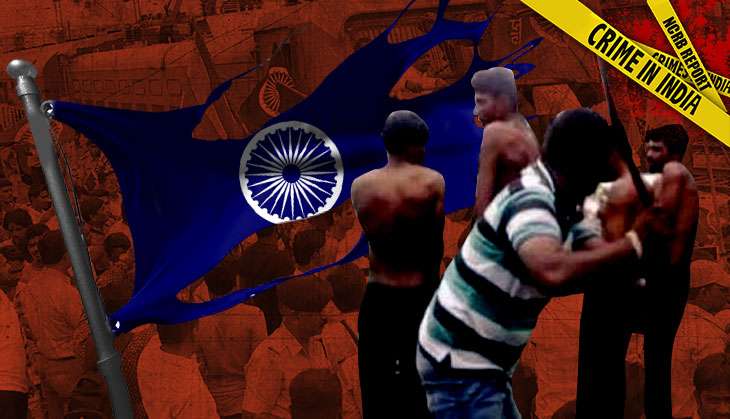 Violence against Dalits has been a bane of Indian society for aeons. Recently, it was back in the spotlight owing to the incidents in Gujarat - where four Dalits were mercilessly beaten up by cow vigilantes, Karnataka - where a family was flogged on the suspicions of having eaten beef, and Uttar Pradesh - where a Dalit couple was hacked to death over a sum of Rs 15.
However, according to the latest National Crime Records Bureau data released on Tuesday, crimes against the Scheduled Castes have actually shown a decline from last year.
According to the norm, crimes against SC/STs include all Indian Penal Code crimes, along with those listed under the Protection of Civil Rights Act, Employment of Manual Scavengers Act and the construction of dry latrines, among others. So, even in a case where a dry latrine is being constructed and someone reports it, it is recorded as a crime against SC/STs.
Crimes against SCs
The latest NCRB data shows a decrease of 4.4% in total 'crimes against SCs' (from 47,064 in 2014 to 45,003 cases in 2015), and a 4.3% decrease in cases of 'atrocities against SCs' (from 40,300 cases in 2014 to 38,564 cases in 2015).
'Atrocity', as per the legal parlance, means a situation "where caste considerations are really the root cause of the crime, and the the victims of the crime are members of Scheduled Castes and the offenders do not belong to Scheduled Castes, even though caste considerations may not be only vivid and minimum motive for the crime".
This means that there is a case of criminal liability if the offence is committed by a person who is not a member of a Scheduled Caste or a Scheduled Tribe against a person who belongs to a Scheduled Caste or a Scheduled Tribe.
The states that have the maximum number of total recorded crimes against SCs include Uttar Pradesh, Rajasthan, Bihar and Andhra Pradesh. These five states have been at the top of this list for the last three years.
UP recorded 18.6% of all crimes against SCs, Rajasthan notched up 15.6%, followed by Bihar (14.3%). Compare that to last year, when UP's figure was 17.2%, Rajasthan's was 17.1% and Bihar's was 16.8%.
Crimes against STs
It's a similar scenario when it comes to crimes against people belonging to the Scheduled Tribes. There was a 4.7% decrease in total crimes against STs (from 11,451 in 2014 to 10,914 cases in 2015), and a substantial decrease of 8.1% in cases of 'atrocities' against STs (from 6,826 in 2014 to 6,275 cases in 2015)
The states that showed a maximum number of crimes against STs include Rajasthan (with 29.4% of all crimes against STs), Madhya Pradesh (14%), Chhattisgarh (13.9%) and Odisha (12.7%). The numbers for last year were 34.5% (Rajasthan), 19.9% (Madhya Pradesh), 6.3% (Chattisgarh) and 11% (Odisha).
Unsurprisingly, the highest number of cases of crimes against both SC and STs were 'atrocities to outrage the modesty of women', with a total of 2,800 cases, up from 2,346 last year.
'Fudged' data makes no sense
Experts refuse to believe these numbers. Some of them argue that the data has been fudged in order to show that the concerns about crimes against SC/STs is unfounded, and that there is no reason for Dalits to hit the streets in protest, since there is a decline in the number of cases.
They add that this is because the states where elections are to be held next year - including Uttar Pradesh and Punjab - there is a large Dalit vote bank up for grabs.
The trend in the NCRB data shows that a lot of BJP-ruled states, like Gujarat, Chhattisgarh and Haryana, have seen a decrease in atrocities against SCs, while only some, like Maharashtra, have seen an increase.
And while crimes against STs have seen a substantial increase in Chhatisgarh and a slight increase in Gujarat, Haryana has recorded zero crimes against STs over the last two years.
Ashok Bharti, Dalit activist and chairman of the National Confederation of Dalit and Adivasi Organisations, said: "The numbers, in no way, reflect the ground reality. We have been looking at the number of incidents, and there definitely has been a rise. Every time there are more news reports and more social unrest among the lower castes, the government puts out fudged data to show the exact opposite."
Raja Vemula, brother of Rohit Vemula, the Dalit PhD student who committed suicide at the University of Hyderabad, said: "I can't believe this data for one minute. After my brother's death, there has been a clear increase in violence against Dalits. The government is just trying to portray that it is friendlier towards Dalits."
Researcher and activist Dilip Mandal added: "I don't see any empirical evidence to back the decrease in crime rate and numbers. If the numbers are to be believed, it would mean a reform in the police system or the judicial system, or that the upper caste and dominant castes have become more sensitive towards the lower castes. This is not reflective of the situation on the ground. I think the data is fudged because of upcoming elections in states with a massive Dalit vote bank, and also an increase in under-reporting of cases."
Critics also argue that there is no independent way the NCRB can check the authenticity of the data curated, which poses a big problem. .
"In the present scenario, where you find more resistance and increase in Dalits voicing their rights, there will be an increase in cases of violence. So, there is no sociological reason behind the decrease in cases," Mandal said.
Zero manual scavengers
The other rather confounding data is of the number of crimes reported under "employment of manual scavengers and construction of dry latrines in the country". The number is, you guessed it, zero.
This means that according to data provided, there has been no case of manual scavengers being employed or a dry latrine being constructed in any state across the country. The 2013 data under the same crime also gives the same bizarre figure.
Stalin K Padma, an activist and founder of Video Volunteers, which documents the lives of manual scavengers across states, said: "This is an admission to the fact that the legislation to curb manual scavengers has failed. The number is mostly a cover-up, and shows that state police are reluctant to file any case under the act. It is well know than hundreds of manual scavengers are employed across states.
"I could possibly agree to the fact that there were no 'dry latrines' constructed in 2015, but there is video recorded evidence to show that manual scavengers are still employed."
Edited by Shreyas Sharma
More in Catch
NCRB data shows that in 2016, India is still no country for women
India's cyber crime menace: 20% spike in 1 year, 2000% in a decade: NCRB
Custodial deaths on the rise, but cops hardly convicted: NCRB