India's water bank is bankrupt. Govt makes a good move to save it
The crisis
In half the 13,000 monitored wells in India, water level dropped in 2015
In Rajasthan, people are digging 300 ft deep for water
In Tamil Nadu, nearly 95% of open wells are dry now
The solution
The govt has introduced new rules to regulate groundwater drawing
14 \'water intensive\' industries can\'t draw water in over-exploited areas
Several industries can use groundwater only if they recharge it
More in the story
What do the experts say about the new policy?
Can the policy be implemented effectively? What the challenges?
Can you imagine drawing water, by hand, from a well 370 feet deep? That is equivalent to dropping a pail down a 35 storied building, multiple times, just to fill a pot. Of course, you would first have to dig down the height of a 35 storied building.
But such wells exist, by the government's own admission, in parts of Rajasthan. In Maharashtra, they go even deeper.
Also read - Doomsday in 10 years: India may run out of water by 2025
To tackle this crisis of groundwater depletion, the central government has come out with a new policy.
It is a welcome and timely movie. The key question now is, will it work?
What is the crisis?
India has one of the most exploited groundwater systems in the world. The water is disappearing fast, forcing people to dig ever deeper wells.
The government observes water levels before every monsoon in 13,000 wells across the country. In its study in 2015, it found that water levels in over half its observation wells had dropped from last year.

In almost all states, the water level in 2015 was lower than even the average of the last 10 years.

The situation was severe in Delhi, Haryana, Punjab, Rajasthan, Gujarat, Telangana and Andhra Pradesh.

In Tamil Nadu, 95% of open wells are dry, and water levels in the rest drop by five feet every year.
What is the policy?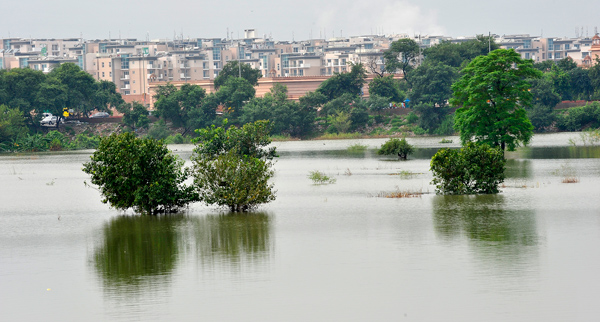 The "Guidelines/Criteria for Evaluation of Proposals/Requests for Groundwater Abstraction", which came into effect on 16 November, place a variety of restrictions on abstracting, or drawing, groundwater.
These were formulated by the Central Groundwater Authority, or CGWA, under the water resources ministry.

The guidelines restrict industries from drawing groundwater in places where it is over-exploited.

The rules identify 14 industries - like bottled water and soft drinks plants, paper factories - as "water intensive". These are now banned from drawing groundwater in over-exploited areas.
India draws twice as much groundwater as the US, but has 100 times as many irrigators
In a first, the rules mandate that industries can use groundwater in deficient regions only if they recharge it. In the most stressed regions, they would have to recharge almost double the amount of water they plan to draw.

In "notified areas" - such as several blocks of Punjab and Haryana - water can be drawn only for drinking purposes.

This policy doesn't apply to nine states (including Andhra Pradesh, Karnataka and Tamil Nadu), three union territories and Delhi, as they have their own state-level groundwater rules.
Also read - Water supply once a month: lessons to be learnt from Latur
Will the policy work?
Activists say the policy will finally regulate activities of soft drink giants like Coca Cola, which have a long history of irking local communities with their large water withdrawals.
However, the biggest challenge in regulating groundwater is the difficulty in monitoring. To keep tabs on borewell digging, a large number of inspectors would be required.

There is already a staff crunch in state bodies that would carry out such inspections.

Implementing the policy is left almost entirely to "authorised officers" on the ground. This leaves scope for corrupt practices.

The monitoring is especially difficult given the scale. India draws twice as much groundwater as the US, but would have to enforce the new rules on 100 times as many irrigators, according to a study by Tushaar Shah, senior fellow at the International Water Management Institute.

According to Shah, the rules can be effective only if backed by law. But while a model groundwater bill has been doing the rounds for four decades, it has ever actually been passed into law.

Even if such a law is passed, there are prohibitive costs to "enforcing it on millions of scattered borehole owners in the countryside," according to the study by Shah.
How will this affect agriculture & industry?
The rules are silent on how the use of groundwater for agriculture will be regulated.
This is a serious omission since agriculture is one of the main reasons for over-exploitation of groundwater. It's why Punjab and Haryana rank high in terms of exploited groundwater reserves in the country.
95% of Tamil Nadu's open wells are dry. In the rest, water levels drop by 5% every year
Perhaps, the most important aspect of the policy is how it plans to control the industrial use of groundwater.

Significantly, the policy covers all industries. The earlier regulation did not apply to industries set up before 15 November 2012, thereby leaving out such notorious groundwater abusers as the Coca Cola plant in Plachimada, Kerala.
"The new guidelines are a significant step forward," says Amit Srivastava of the India Resource Centre, which been fighting against industrial exploitation of groundwater.
"But a lot depends on whether the CGWA will apply the guidelines in letter and spirit."
READ MORE - The do-it-youself guide to tackle water scarcity: UP villagers show the way
Rainfall has been low in many states and the monsoon doesn't have much time to make up
'Save Ganga' handed over to corporates: masterstroke or disaster?