Drought Diary: Gujarat govt in denial; wheat crop fails in Uttar Pradesh
Catch Team
| Updated on: 10 February 2017, 1:50 IST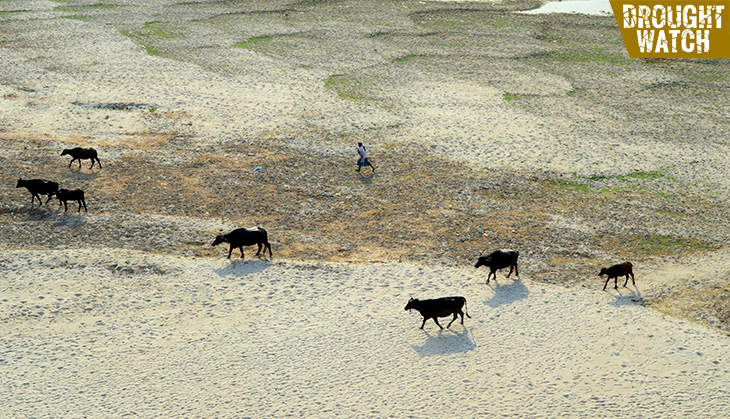 Gujarat: Even as State denies drought, sowing of summer crops falls by 68%
Sowing of summer crops in Gujarat reduced 68% this year as a result of the drought, reports Patrika. Water-intensive sugarcane has been sown on only 3% of the usual area. There has been zero sowing of urad dal and corn. While summer crops were planted over an average 11.07 lakh hectares in the last three years, hardly 7.58 hectares have been sown this time. The state government has not declared drought even though many districts are facing water shortage. After coming under pressure, the State in April declared about 1,000 villages as 'scarcity-hit'. But the situation is much more grim, as the sowing statistics affirm.
Uttar Pradesh: Wheat crop fails even as farmers await last year's compensation
Farmers in Kanpural Dehat district of Uttar Pradesh are staring at a failed wheat crop. While farmers in Shivali Tehsil harvest 10 to 12 quintals of wheat from one bigha of land, only an average five quintals have yielded, according to a report in Amar Ujala. Sales from the low harvest will most likely not even cover the cost of cultivation. Meanwhile, the wheat farmers are yet to be paid compensation for crop losses because of last year's unseasonal winter rainfall. Farmers from over a hundred villages in Shivali haven't been paid compensation, the report adds. When some farmers approached the sub-divisional magistrate Vinita Singh, she cited lack of funds as a problem.
Also read- #DroughtDiary: Farm loans rise in Maharashtra; water supply schemes fail in Gujarat
Marathwada: Osmanabad village has more borewells than people
In Ruibhar village in Maharashtra's Osmanabad district, there are nearly 2000 borewells. That is more than the population of the village. This is the situation in several other villages in Marathwada, reports the Maharashtra Times. In Marathwada, the desperation for water has led people to drill to 700 feet in search of water. These are farmers trying to keep their farms and fruit orchards alive. Plus, water from tankers is not enough, which is leading people to dig deep borewells at home too. Experts say that it is not economically worth it to dig below 200 feet. Besides, water beyond 300 feet is not safe for consumption, the report says.
Edited by Anna Verghese
More in Catch:
CBI summons Rawat after sting found genuine, he says it's a BJP plot
By 2050, India may lose 6% of GDP due to water crisis: World Bank
Court-ship of the desert: MP camels to get married in a gala ceremony
Auto industry growth a sign of economic rebound. But is it a false dawn?