Promoting Dangal: How Aamir Khan stole a bride's thunder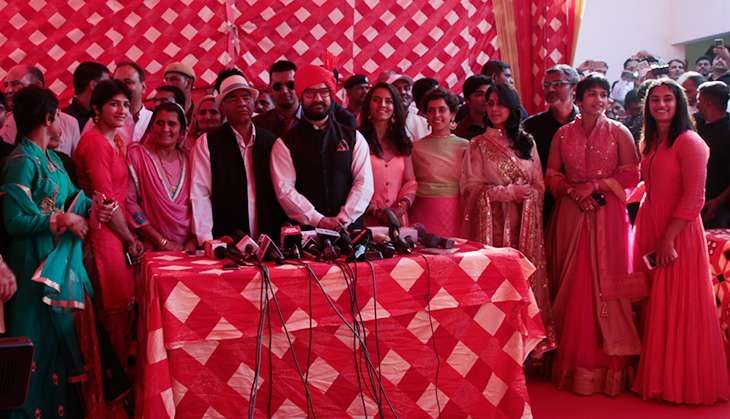 Aamir Khan hates going to parties. But this was clearly a party he enjoyed being at. Villagers hanging from window sills, ledges and rooftops, perched on trees and boundary walls, spilling into galis - trying to get a glimpse of the great 'Ameeer Khan' who has etched the name of their village on the Bollywood map.
Their women, with their heads and faces half-covered, lifted their veils ever so often - every time a car arrived at famous wrestler and Olympics coach Mahavir Singh Phogat's door.
Of course, Aamir Khan didn't oblige them easily. And in those hours the crowds swelled. The 70-odd Haryana policemen or the ample private security that had been sourced from Delhi was not able to contain the villagers' enthusiasm or strength.
Aamir Khan's next mega film Dangal is based on Mahavir Singh Phogat's life. Aamir plays Mahavir in the film and the reason for his visit to this nondescript, dusty village of Balali in Haryana on an otherwise lazy Sunday afternoon was to attend Mahavir's eldest daughter Geeta's wedding.
How Mahavir got over the grief of not having a son to carry forward his legacy, and how he fought patriarchal diktats to teach wrestling to his daughters Geeta and Babita is what Dangal is about.
Today, Geeta Phogat is the proud daughter of Haryana - the state with a notoriously skewed sex ratio. Everyone - from the grand patriarchs to the grand matriarchs - spoke highly of Geeta and Mahavir. They even regretted their earlier "bahishkar" (boycott) of the family when Mahavir would wake up his two girls at the crack of dawn, by cracking the whip. They even rued the kismet of their own daughters who are wasting their lives in front of the "chulha" (stove).
"We all thought he was such a bad man. He used a stick to wake up his daughters at 4 am," says Geeta's portly paternal aunt. But today all that she wants from life is a meeting with "Ameer". She says she has seen him on the silver screen several times, but never for real.
Mirror Mirror on the Wall
Dressed in a peach lehenga, Geeta is running down the stairs of her house - looking harried, hardly the bride who should only be worrying about her reflection in the mirror. She is looking into the last minute details of Aamir's visit.
Her paternal grandmother insists she take a break and talk to Catch. But Geeta mutters a quick "Sorry, I can't talk now, I am very busy" and disappears.
An hour later, Geeta poses for pictures with her family. There is much whispering in the crowd about how she has decided to take eight pheras - instead of the usual seven. The eighth, the locals conjecture, would be a pledge to work for the upliftment of women. Locals also fume at the rumour of Aamir's much-publicised gift to Geeta, her wedding dress - "how can she accept that? That has to come from her mama (mother's brother)". She cannot break a "rivaaj" (ritual).
Marriage in the time of Demonetisation
With the rather hot November sun blinding everyone, the local VVIPs started arriving - the politicians, the SDM, holding his son - all auspicious signs of the star's impending arrival.
When he did arrive, wearing a red turban - "because red is the colour you wear for weddings" - the crowd became hysterical. Aamir wore his best smile and waved at rooftops and ledges.
Flanked by the Phogat family, Aamir wished Geeta and her soon-to-be husband. He said attending Geeta's marriage had nothing to do with Dangal, which releases on 23 December - never mind the star cast of the film and director in full attendance.
He said Mahavir Phogat's story is very inspiring and hence a film based on him.
"Today we should not talk about the film, we should only talk about Geeta's marriage. I am very happy that I am attending her wedding," said Aamir.
Asked if he had been hit by demonetisation, Aamir said, "I have had no trouble. All my money is in the bank and I make payments through cheques."
When reminded that mostly stars have stayed away from commenting, he said, "We are scared of saying anything...you may (distort)..."
Aamir also said it is not easy from him to disconnect from his films, even though he has announced his next film The Thugs of Hindostan.
"It takes time...It depends from film to film. In this case I am not disconnected yet."
Skewed Ratio
Aamir told the local media why he had decided to shoot "Dangal" in Punjab and not Haryana.
"There were some technical requirements for which we chose to shoot in Punjab. Both states look similar, but the location was better in Punjab, the director too liked that. You will know when you watch the film."
He humoured the villagers with a Haryanvi dialogue from the film -- "Maari choriyan, choron se kam hai ke?" (Our girls are no less than boys)
When asked if he had decided to give a "shaadi ka jora" to Geeta, Aamir said, "I wanted to give a wedding dress, but Geeta told me it had to come from her Mama. That is the ritual here and I couldn't break that."
"But we have got a lot of other gifts for Geeta and the biggest gift is the film which releases on 23 December."
Geeta, who was looking less harried by the end of it all, found her voice and said, "Sabse bada gift hai yeh aa gaye." (He is the biggest gift I could have wished for).
True. But this starry gift definitely stole her thunder.