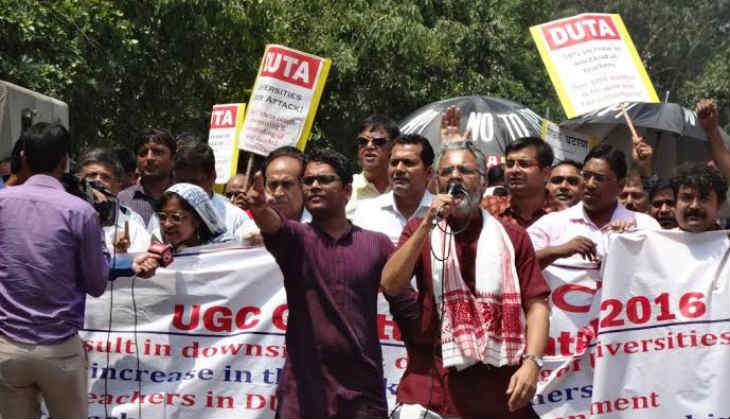 Under pressure from Delhi University Teacher's Association (DUTA), the United Grants Commission (UGC) on Wednesday restored the direct teaching workload to 16, 14 and 14 hours per week for assistant professors, associate professors and professors respectively. It also assured academicians that there will be no retrenchment on account of Academic Performance Index (API) and workload.
Furthermore, tutorials, practicals and field work will also be included in the direct teaching hours apart from lectures and project supervision.
"Mentoring by professors and teachers will also recognised while calculating direct teaching score. This is for the benefit of both teachers and students," said Vinay Sheel Oberoi, Secretary Higher Education, Ministry of Human Resource Development (MHRD). Teachers will now be able to achieve the minimum score in direct teaching dimension of API possible with these changes.
Also Read: Beyond the 'Dear', Ashok Choudhary needs to see the irony in his attack on Smriti Irani
"The UGC also intends to reduce the number of ad-hoc teachers by filling up vacancies through regular selection," Oberoi told reporters at a press conference.
Oberoi was announcing the fourth amendment to UGC (Minimum Qualifications for appointment of teachers and other academic staff in universities and colleges and measures for the maintenance of standards in higher education) Regulations, 2010.
The ministry has also removed the the cap on API over research dimension, brought in by the second UGC amendment.
Also Read: A university for teachers, MHRD's next idea
In order to maintain the standard of research and publication under API, the UGC will come out with a list of journals for API score.
"The UGC will consider the list of journals on recommendations of a standing committee. This committee will receive the list from the university. UGC will take a call on its inclusion within 60 days of its receipt of recommendation. UGC will also recommend journals," said Oberoi.
"Keeping in mind the fact that teachers write books and chapters, the university will take a call and send a list of books for consideration of API calculation o the UGC," he added.
Scoring in research dimension of API will also include writing policy documents of Central, State and local bodies.
The higher education secretary also said that college principals can be reappointed after their five-year term, post an external peer review in the format specified by the UGC.
Also Read: Dear Smriti Irani, a 15-hour workday is not feasible
Speaking on teachers' evaluation by students, Oberoi said, "Student evaluation is an important part of feedback. However, this has a weightage of just 10% and students with more than 75% attendance will be able to evaluate teachers."
"API is an important criteria to filter teachers during entry into academia," he added.
Reacting to the announcements, Abha Dev Habib, executive council member of DUTA, told Catch, "New workload norms, which were notified in the Gazette Notification of May 2016, have been completely withdrawn. This is victory of an intense united teachers' movement which drew huge support from students, political parties and concerned citizens."
"However, despite several representations from DUTA, FEDCUTA and AIFUCTO and growing criticism, the UGC has not scrapped API (PBAS) scheme for promotions. This scheme, which quantifies academic and teaching work, is irrational and unacademic. This faulty scheme and its retrospective implementation have denied promotions to teachers. It also seems that the UGC has not conceded to our demand of delinking students' feedback with promotions. The DUTA GBM tomorrow shall decide the future course of action. A pan-India movement demanding rollback of API (PBAS) and filling of vacant teaching posts on permanent basis with correct roster seem to be the way forward," she said.
Also Read: Please let children choose their own streams, Smriti Irani to parents
UGC, through a gazette notification in May, had changed the direct teaching workload of professors at 18, 16, and 16 hours per week, plus six hours of additional work which included practicals, tutorials and fieldwork.MHRD reduced the teaching hours to 18, 14 and 14 hours per week, without any changes in the six hours of additional work per week, following massive protests from Delhi University teacher.