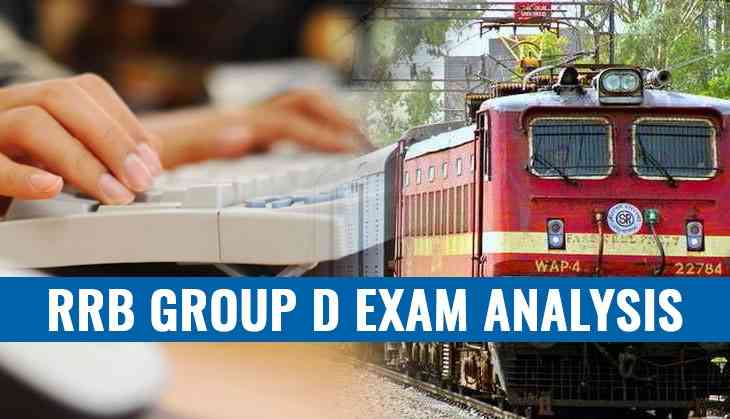 The Railway Recruitment Board has announced a huge vacancy for the aspirants who wanted to work in the government organisation under Group C & D category. RRB has released over lakhs of jobs this year. However, RRB has recently concluded its group C post exam and now, Group D posts exams are going on across the country.
Today, RRB Group D exam is conducting today i.e. 8th October 2018. The Railway recruitment board has released 62,907 vacancies for the RRB Group D posts. The exam for the Group D is conducted in three shifts at a different time.
Check out the shift timings:
Shift I: 09.00 AM to 10.30 AM
Shift II: 12.30 PM to 02.00 PM
Shift III: 04.00 PM to 05.30 PM
This year, RRB is conducting the Computer-based Test (CBT) across the country. Candidates are getting the option to appear the exam either in Hindi or English language. Candidates will have to answer 100 questions in 90 minutes. Also, candidates should remember that for attempting the wrong question, 1/3rs marks will be deducted.
However, today's first shift exam has been concluded and candidates are out of the examination hall and many wanted to know about the questions that have been asked in the exam and also wanted to know the correct answers of the questions that they have given their first stage CBT exam.
Therefore, we are here to help you by telling you about the examination. We are also going to analyse the 8th October Shift I exam for you.
Check out the 8th October analysis:
The paper was divided into four important sections:
1. Mathematics
2. GI & Reasoning
3. General Science
4. GA and Current Affairs
Here's the level of the exam as per the section-wise:
1. General Awareness on Current Affairs- Moderate
2. General Intelligence & Reasoning- Easy to Moderate
3. General Science- Easy-Moderate
4. Mathematics- Easy-Moderate
Check out the questions asked in 8th October shift I exam:
1. Complete this series 1, 3,4,5,7,9,11,?
2. Express the Venn Diagram between Pen, Bag and Pencil.
3. Mirror Image of BANK
4. Find the missing word AZCY: BYDW :: HQJO:?-IPKM
5. World Ozone Day is observed on which day ?- 16th September
6. Who is the 1st governor general of India ?- Viliam Bentick
7. Who desecrated the Somnath Temple ?
8. The headquarter of Dena Bank is located in – Mumbai
9. Establishment year of Indian Railway ?- 1905
10. Where does body temperature control ?- Hypothelemas
Also read: SSC Recruitment 2018: Commission announced to give one more week to submit your online application for this post; check details