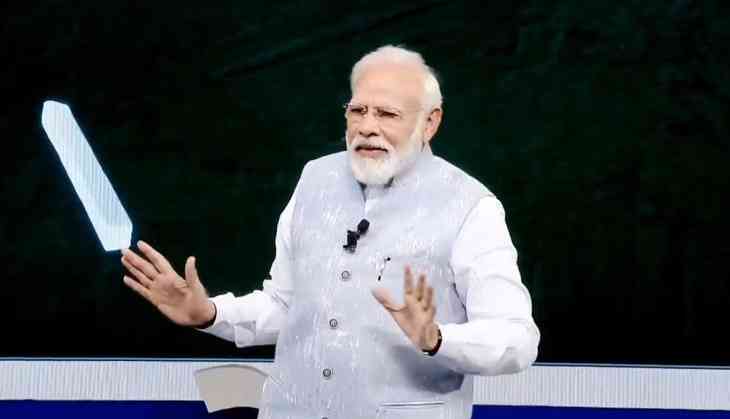 Prime Minister Narendra Modi is back with his Pariksha Pe Charcha 3.0 in Delhi's Talkatora stadium where he interacted hundreds of students from all over the country. PM Modi began his annual interaction with students with Happy New Year 2020 wishes and received applaud from students too.
During his speech, PM Modi answered the questions that have been asked by the students from various parts of the nation. From talking about how to lift the mood while preparing for boards to the pros and cons of technology, PM Modi explained to students how to overcome their problems.
PM Modi communicate students without a filter. "The difference between me and your parents is I can interact with students in a friendly manner," PM Modi said.
LIVE: PM Modi's 'Pariksha Pe Charcha' Townhall with students. #ParikshaPeCharcha2020 https://t.co/MLYPC1SYHN

— Nityanand Rai (@nityanandraibjp) January 20, 2020
Let's have a look at important points that PM Modi converse about during Pariksha Pe Charcha:
1. Manage your mind:
Modi advised students to maintain their mood while preparing for the exam. He also said, "We first need to understand why our mood gets off." Students need to keep track on the time.
2. Failure is a step towards success:
PM Modi interaction, PM Modi set the example of Chandrayaan 2 and its failure that Scientists have to face. PM Modi said, "Every failure is a step towards success." He also added that after the Chandrayaan 2 mission failed, he met scientists the next day to motivate them.
3. Learn from Indian cricket team:
Modi asked students to learn from team India that how to triumph over the demotivated situation. He took the name of Rahul Dravid, Sachin Tendulkar and other Cricketers who won the match despite a demotivated situation.
4. Advice for parents:
Modi also advised parents not too pressurized students about exams and entrances as the world is full of opportunities. Also, asked parents not to restrict their children only to school examinations.
5. Balance between studies and extra-curricular activities:
A student asked PM Modi how to maintain a balance between studies and extra-curricular activities. PM Modi answered, "We should try and learn from experiences. One cannot live like a robot." He also added that students should take participate in extra-curricular activities.
6. How to use technology efficiently:
Modi suggested students that don't allow technology to rule you, rather, one should rule the technology. "Save yourself from getting exploited by technology," he said.
7. Best time to study:
PM Modi feel obliged after students asked, "how to manage time" because he thinks that it is a personal question that students generally asked their family members. PM Modi advised, "Wake up early morning and study, this is the best time for any work."
Also Read: Pariksha Pe Charcha 2020: PM Modi answers students' queries on exams