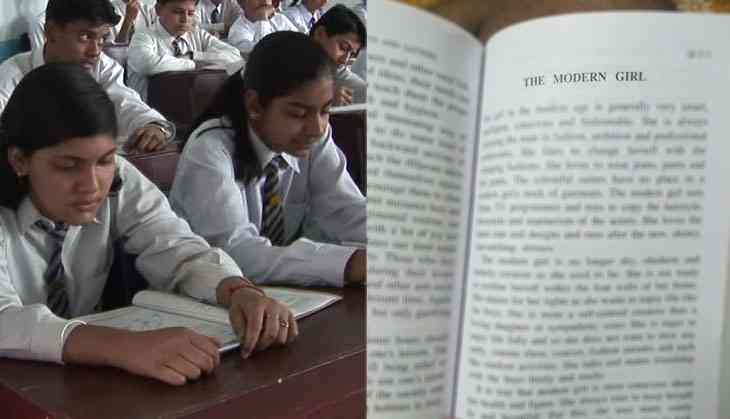 A shocking fact comes to light from the CBSE and ICSE textbooks and after reading it you might get angry. Yes, CBSE and ICSE textbook for the Secondary and Higher Secondary School students defined the meaning of 'modern girl'.
According to the textbook, a modern girl is selfish to think about others and cares only about her clothes and cosmetics. In the book, it has also written that the modern girl is no more shy and obedient. Such shocking things have been written in the book of essays called 'Current School Essays and Letters' which is published for the fifteen to sixteen years old school students. The book has been written by Kolkata-based author Purabi Chakraborty.
Here's what the text in the chapter reads:
'She is more a self-centered creature than a loving daughter or sympathetic sister. She is eager to enjoy life fully and so she does not want to miss any party, cinema show, concert, fashion parades and such outdoor activities. She talks and makes friends with boys freely and easily.'
However, this issue comes to light when a Kolkata based Abhik Hazara noticed it in his cousin's book. Also, he noticed that the book also highlighted the role of parents and other family members in the upbringing of a modern girl.
Check out the image:
As soon as this image has been uploaded on the social media, the netizen filled with anger.
Here's how Twitterati reacted:
Seriously????

(Sent by a batchmate) pic.twitter.com/qvywsfXvR7

— Rema Rajeshwari IPS (@rama_rajeswari) August 21, 2018
"A modern girl is too selfish to think about others. Only latest fashion and cosmetics are dear to her". A textbook intended for ICSE & CBSE board by a nanny called Purani Chakraborty. #Shameless #trash @derekobrienmp @HRDMinistry #cisce #CBSE @TheOpIndian @Manekagandhibjp pic.twitter.com/8BsAM5haYS

— Soma Basu (@sbasu_in) August 20, 2018
Such an insightful article on 'modern girl'. It's so inspiring to see that women having any kind of ambition,wishes or in general a life makes them 'self centred'. This is what we teach our kids&then wonder why are we so misogynistic as a society. pic.twitter.com/p0Ef8rH2qX

— Kamayani Vyas (@k4ms) August 20, 2018
What a disgusting definition of modern girl! Students should unlearn this if already they have learned from the book. pic.twitter.com/MONJdSFbkh

— taslima nasreen (@taslimanasreen) August 21, 2018
Wow this is not parody. The definition of a "modern girl" in a school essay book, via @mtanmay from the wall of Abhik Hazra. Modern girls are apparently "self-centred creatures". https://t.co/6cNunsA4ME pic.twitter.com/HMnX4QTlrx

— Rituparna Chatterjee (@MasalaBai) August 20, 2018
What do you think after reading about the 'modern' girl in this textbook?
Comment..
Watch Video:
Also read: CMAT, GPAT Registration 2019: NTA to start the online application from this date; know here