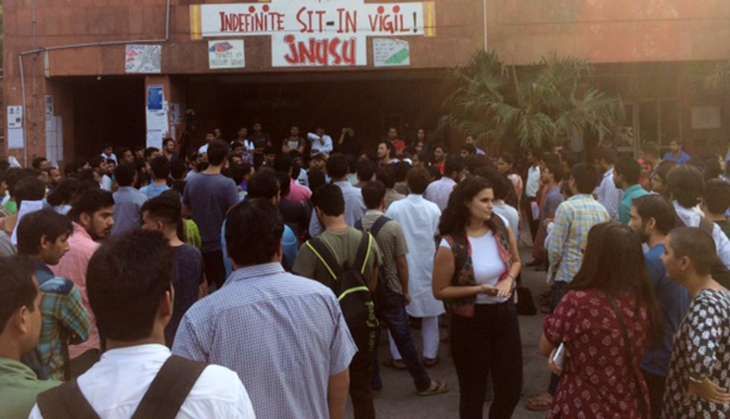 A case of kidnapping was registered at the Vasant Kunj North police station on 17 October, two days after Najeeb Ahmed, a 27-year-old student from Jawaharlal Nehru University was reported missing.
Najeeb Ahmed, a first-year student of MSc Biotechnology at JNU, went missing from his room at the varsity's Mahi/Mandavi hostel on 15 October, a day after he was allegedly engaged in an altercation with ABVP students.
Also Read: JNU Students' Union asks administration to ensure fair trial in missing student's case
The case was registered under section 365 of the IPC on the basis of a complaint filed by Najeeb's mother, Fatima Nafeez. She told reporters that Najeeb had called her early on 15 October, asking her to come to the campus because he was in trouble.
Najeeb's family is currently at the campus, where students have been demanding urgent action in the case. The JNU Student Union (JNUSU) has also demanded that the administration file a police complaint on behalf of the varsity.
"If Najeeb is not found within the next two days, we will approach the Delhi High Court and file a petition," Sarfaraz Hussain, Najeeb's relative and a lawyer at Delhi High Court told Catch on 17 October.
The events on the night of 14 October, as told to Catch by eyewitnesses:
At around 10:30 pm on 14 October, three students - Vikrant, Sunil, and Ankit - knocked on the door of Najeeb's hostel room.
The three were campaigning on the behalf of Anuj Tomar, a presidential candidate for the Mandavi Hostel election - scheduled to be held on 17 October. (The polls have been postponed).
Also Read:JNU student Najeeb goes missing after brawl with ABVP members
Students say that Najeeb reportedly slapped Vikrant three times and also passed a remark about the kalava (a red color thread worn by Hindus) on Vikrant's wrist. An angered Vikrant retaliated and hit him back.
Upon hearing the noise, Mohmmad Shad, a student who was campaigning on the second floor for other another presidential candidate, ran towards Najeeb's room, where he saw him bleeding and apologising to Vikrant.
Meanwhile, Ankit mobilised around 10-15 students affiliated to the ABVP who manhandled Najeeb, Shad alleged.
In a bid to protect Najeeb, Shad and others locked him inside his room. However, the group of students mobilised by Ankit gained entry after a hostel security personnel demanded that the door be opened. After this, Shad and a few students took Najeeb to the washroom, where he was beaten up once again by the same group of students.
Students claimed that hostel warden Dr Sushil Kumar was also manhandled during the scuffle.
Former JNU president Kanhaiya Kumar handling the situation at JNU campus (Photo: Nishant Saxena)
Soon, JNUSU president Mohit Pandey and other AISA members arrived at the spot.
Claims and counter-claims
The decision to take disciplinary action against Najeeb was taken at a meeting of the hostel wardens and he was asked to leave the hostel by 21 October. During the meeting, Najeeb claimed that he was "mentally unwell". "Najeeb banged his head in the wall several times during the meeting while saying that he was mentally unwell," some students who were present at the meeting told Catch on the condition of anonymity.
Also Read: Still no sign of JNU student who went missing after brawl with ABVP
After the meeting, Najeeb called his mother and told her to come to the campus. "I asked him (Najeeb) to remain in the hostel and that I will come to the hostel as soon as possible," Fatima Nafeez told Catch.
After the incident on 14 October, Mohd Qasim wrote to the senior hostel warden, countering Najeeb's claims. "I have noticed no temperamental problem or unusual behavior of him (Najeeb). His all claims of him being mentally unsound is false... "I request you to take a strict disciplinary action against him and demand him to be kept out of bound from the hostel. Sir, I myself feel threatened because of his inappropriate behavior today," Qasim wrote in his letter.
Letter written by Qasim requesting the warden to take strict action against Najeeb
However, when Nafeez reached Najeeb's room at around 1:20pm on 15 October, she found him missing. His phone, charger and wallet were lying in the room. His roommate, Mohd Qasim, had no clue about Najeeb's whereabouts.
Internal politics at play
While the AISA-led JNUSU claims that Najeeb is an AISA activist, the missing student's friends have dismissed the claim.
During the protest to demand that the authorities find Najeeb, JNUSU members and other students engaged in arguments over the nature of the protest.
Students objected to the JNUSU's use of the word "missing" for Najeeb. Students have demanded that the incident be labelled as a case of "kidnapping and abduction" instead.