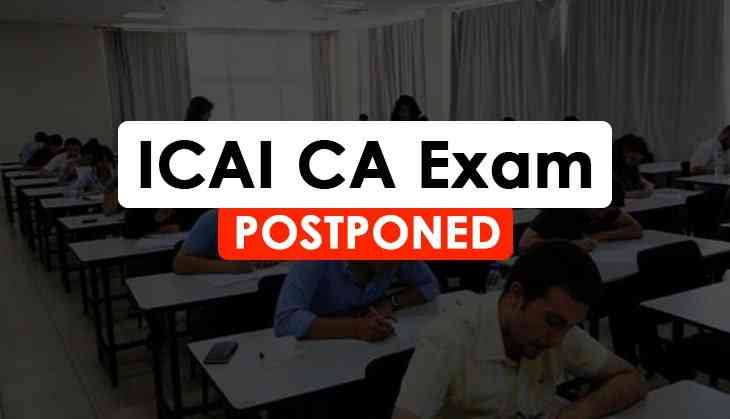 The Institute of Chartered Accountancy of India (ICAI) has postponed the Chartered Accountants (CA) exam which was likely to begin on 2nd May 2019.
As per the official notification, the ICAI has rescheduled the Chartered Accountants exam on 27th May 2019. Now, candidates have more time to prepare for their CA exam.
The reason behind rescheduling the dates of the Chartered Accountants exam is the forthcoming Lok Sabha Elections 2019 that will be held from 11th April to 19th May 2019.
Check out the official notification released by ICAI:
'It is hereby notified for general information that in view of Elections to the 17th Lok Sabha Parliamentary Constituencies across the country, spanning April-May, 2019, the Chartered Accountants Examinations initially scheduled from May 2, 2019, to May 17, 2019 stand rescheduled. The said examinations shall now be held from May 27, 2019, to June 12, 2019.'
To check the detailed information, candidates can check the official website at icaiexam.icai.org.
Therefore, candidates who have not applied for the exam yet can apply now before the application window gets closed on 16th March 2019. However, the application form was started on 20th February.
Check out the dates of other examination:
IPC group 1 on May 29, 30 and June 1 and 3, 2019
IPC group II exam will be conducted on June 6, 8 and 10, 2019
The foundation course exam will be conducted on June 4, 7, 9, and 11, 2019
Intermediate course exam group I will be conducted in May 28, 30 and June 1 and 3
Intermediate course exam group 2 will be held on June 6, 8, 10 and 12, 2019
Intermediate (IPC) course exam will be conducted in two groups
Group II of the final exam will be held on June 4, 7, 9 and 11, 2019
Group II exam on June 4, 7, 9 and 11, 2019
The final course exam will be conducted on June 27, 29, 31 and May 2, 2019
The final exam will now be conducted on May 27, 29, 31 of May and June 2, 2019
Also read: NADA invites application from Law students and earn upto 75,000 per month