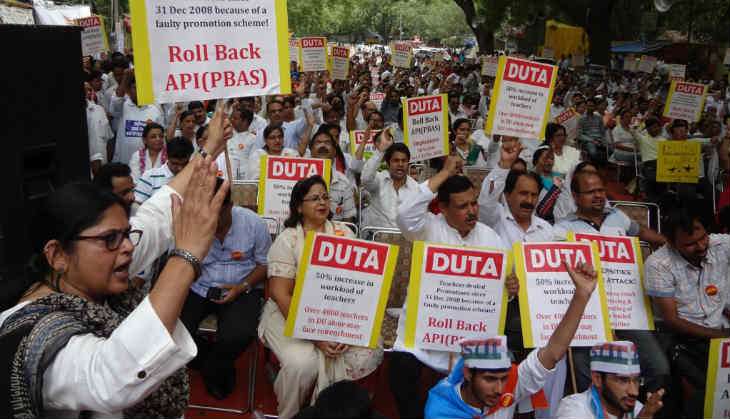 Represtative image: DUTA members protesting
p { margin-bottom: 0.25cm; line-height: 120%; }
Over a thousand teachers protested at the Arts Faculty Gate, Delhi University, on Friday, demanding early regularisation of 4500 ad hoc and temporary teachers with correct Government of India roster. Various speakers protested at the failure of DU administration in holding permanent interviews to fill up vacancies in teaching posts.
Over the last eight years, there's been a huge increase in the number of ad-hoc teachers in Delhi University, said the protesting teachers.
"Teachers working in this capacity face immense hardships as their services are renewed every four months and they are often denied vacation salaries and other benefits like leave, etc. While on the one hand, Government documents repeatedly claim that there is lack of talented and qualified teachers, it is shocking that the MHRD and the UGC have allowed Delhi University to keep teachers in this vulnerable state of employment for long years leading to a demoralisation of talented young aspirants," stated a communique from Delhi University Teachers Association (DUTA).
At the event, DUTA President Nandita Narain said that the only solution to this problem was to 'immediately regularise both ad hoc and temporary teachers, working within the Constitutional framework of the DoPT roster and other legal obligations'.
The Dharna culminated with a march to the DU VC's office.