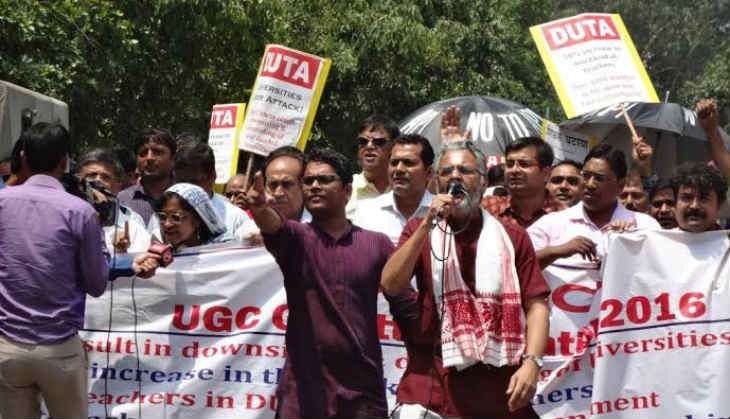 With reports of rift emerging among teachers, the Delhi University Teacher's Association (DUTA) ended the boycott of university admission process Tuesday night. The decision was taken at the executive council meeting of DUTA.
According to sources, some teachers were divided over whether DUTA should continue to boycott the evaluation of examination papers and admission process.
DU teachers have been protesting against the UGC notification since May this year. Their primary demands are:
(a) Scrapping the Academic Performance Indicator (API) that resulted in zero promotions for teachers for the last eight years
(b) Commencing with permanent appointments for 5,000 vacant teachers' posts
The Crack
On Monday, a group of 200 teachers expressed their disappointment over Delhi University teachers' admission and evaluation boycott.
Claiming that the strike is jeopardising students' careers, a statement by this section of teachers opposing DUTA protest stated,"Teachers' strike is continuing without paying any heed to the difficulties that students and parents are facing due to the dissociation call of DUTA." The teachers have been facing problems over the last five years but have now decided to protest due to political compulsions, claimed the group.
Also Read: No promotions for DU teachers in 8 years. 'Can we get a time machine to fix things?' ask educators
"As the resolution of problems arising out of API-PBAS scheme that was introduced way back in 2008, an admission boycott call in 2016 can in no way be justified....The entire development seems to be part of a larger design of the Congress and Left combine in creating a state of unrest in the education sector throughout the nation to defame the government and ministry," said the statement.
Reacting on the statement, Abha Dev Habib, Miranda House professor and member of executive council DUTA, told Catch, "All this seems to be mobilised by BJP and the Rashtravadi Shikshak Sangh. With more than 10,000 teachers in the university, the government is trying to disrupt the movement by mobilising their own people within us."
Rashtravadi Shikshak Sangh is a new organisation within the National Democratic Teachers' Front (NDTF), University of Delhi.
Catch called up Dr Rakesh Kumar Pandey and Dr Pramod C Sharma, members of the new body, but there was no response.
Meanwhile, the Akhil Bharatiya Vidyarthi Parishad (ABVP), along with students and DUSU members, took out a "Save DU Rally" on Monday against the DUTA boycott.
Also Read: Dear Smriti Irani, a 15-hour workday is not feasible