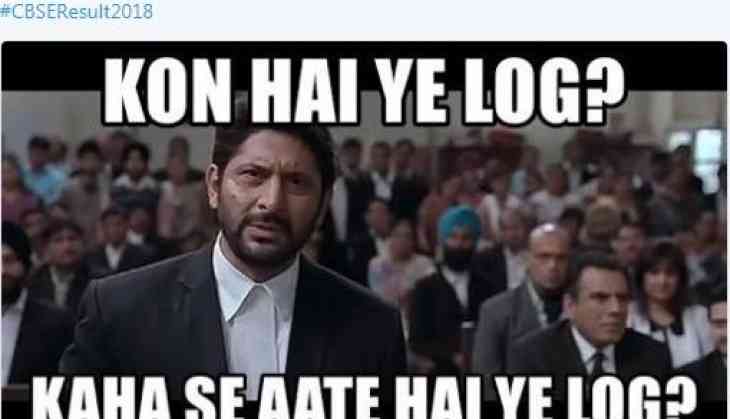 The Central Board of Secondary Education has declared the CBSE Class 12th Board exam result 2018 on its official website. However, The students can also get their result through Microsoft's 'SMS Organizer' app and also on google search engine.
CBSE has released the results for more than 11 lakh students who had appeared for the examination. However, the overall passing percentage of CBSE Class 12th is 83% this year. As soon as the results announced, everyone wanted to know that who is the topper of CBSE Board examination. As CBSE Board exam conducted in every state of the country, therefore, the competition is also tough. So, the name of the topper in the examination is mattered to everyone.
This year, the name of the CBSE topper is Meghna Shrivastava from Step by Step School, Sec-132, Taj Expressway Ghaziabad. Her performance in the CBSE Class 12th examination has shocked everyone as she scored the whopping score i.e. 499 marks out of 500 marks in the Board examination and become the first rank holder of the Board exam 2018.
Well, it's all her hard work that comes out in this form and everyone is proud of her, especially, Meghna parent's must be more happy for her.
But, there are some people who must be feeling jealous of her for scoring the highest numbers in all the subject.
Check out her scorecard:
Meghna Srivastava, a class 12 girl from Step by Step School in #Noida is All India Topper with 499 marks. @htTweets @HTNoidaGzb @htdelhi pic.twitter.com/WFQB238aad

— Vaibhav (@Vaibhav_Rptr) May 26, 2018
What a performance in each subject! Well, Twitterati is getting shocked that how a student can score such high scores in all the five subject.
Here's how the social media users reacted:
Mission accomplished 👍😎 topper#CBSEResults #CBSEResult2018 #CBSE pic.twitter.com/2nDt935YJK

— Tweetera🐦 (@DoctorrSays) May 26, 2018
To save time for studying I did this#CBSETopper pic.twitter.com/mQ0wSPCyYw

— Kadvi Baat (@theRakshaGopal) May 29, 2017
#CbseResults2017
NDTV : Beta how you came first in board?
CBSE topper : pic.twitter.com/vSQAzAJ4aj

— Sagnik🚩🚩 (@Sangy_Sagnik) May 28, 2017
After seeing marks of topper, backbenchers be like #CBSEResult2018 #CBSE #Class12 #Classof2018 pic.twitter.com/9xxswesjlB

— SUBHAM (@subham001aim) May 26, 2018
Meghna Srivastava tops CBSE Class 12 exam with 499/500 marks. #CBSEResult2018 pic.twitter.com/rG0xlOVYHf

— Shivaji Bajpai (@ShivajiThinks) May 26, 2018
Sharma ji ke bachhe aaj muh chhupa rahe hain 😂
Congratulations Meghna Srivastava!!#CBSEResults

— Romsha Sinha ✨ (@kohlischarms) May 26, 2018
1 number kiske liye chhod diya didi
meghna srivastava #CBSEResult2018

— Natik 🇮🇳 (@natikonline) May 26, 2018
Meghna Srivastava is India topper with 499 marks out of 500#CBSEResult2018 pic.twitter.com/QQ8KIOMSzz

— Flo Wrene (@3lectronegative) May 26, 2018
CBSE topper scored 499/500
The girl who came second scored 498/500.

Seven people came third.

What is wrong with kids these days? #CBSEResult2018#CBSEResult #cbse12thresult

— Deeksha Teri (@DeekshaTeri) May 26, 2018
Meghna Shrivastava from Ghaziabad is this year's topper with 499/500 marks.

But instead of being happy , she must be upset over the fact that she lost one mark.

Because Girls are Girls ! 😸#CBSEResults #CBSE #CBSEResult2018

— Roshan Rai (@RoshanKrRai) May 26, 2018
#CBSEResult2018
CBSE results announced today and Meghna Scored 499/500.
That one mark is deducted to give her an eclairs 😂😂 #sarcasm #Topper #fun pic.twitter.com/yigcnZF0Ay

— Rishabh (@rishabh_sharma8) May 26, 2018
Well, we must say Twitterati reactions are very funny and we can't stop laughing any more.
What do you say? Comment your opinion here…
Watch Video:
Also read: CBSE Class 12th Result 2018: It's Official! Intermediates students can check their results at 12:30 pm