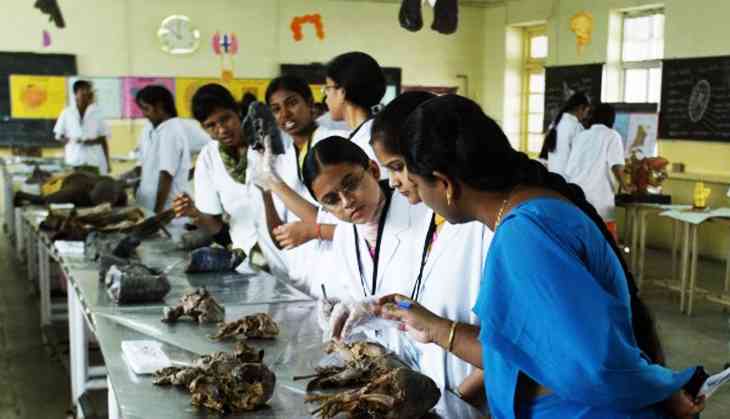 The annual admission session may be on full swing, but it is still not clear whether private medical colleges would be asked to put a cap on their fees any time soon. Also, states might be roped in into the process.
A committee may be set up to look into the issue, but that could take until the end of this month, said a source from the Union minister for health and family welfare. Anupriya Patel's ministry and the Union human resource development ministry has been discussing capping fees at private colleges.
"We may form a national committee or ask state governments to form committees to regulate the fees structure in the private medical colleges in the state" a ministry official said. Some states already have committees to regulate fees, the official pointed out.
"One concern we have is if a ceiling for fees is prescribed, institutions charging less than others may spike up their fees too," the official said.
The issue hit headlines after the Madras High Court on 16 June ordered the University Grants Commission (UGC) and the HRD ministry to form a committee to determine the fees for private medical colleges.
The UGC then wrote to the ministry, asking it to consult with the Health Ministry and the Medical Council of India (MCI). Medical education is regulated by MCI.
The court order was on a public interest litigation by a few students last month after a deemed university in Pondicherry asked them to pay an exorbitant amount not mentioned earlier.
The PIL said, 'deemed universities offering medical courses were operating with the sole intention of amassing wealth through unfair means, and profiteering has become their sole objective'.
The problem with getting all private medical colleges under the same fee structure is that while it may decrease the fees of some colleges which have better teaching facilities and are affiliated to good hospitals, it will also end up increasing the fees of those that may not be providing the same quality of education and are charging lesser.
For example, as of 2017, Manipal University charges a general category student Rs 45.55 lakhs for the five-year MBBS course which comes to about Rs 10.20 lakhs per annum. Whereas D. Y. Patil Medical College in Pune charges Rs17.50 lakhs for the same five-year degree, which comes to Rs 3.5 Lakhs per annum. Both are private deemed universities.
Money matters
There are 34 private deemed universities that offer courses in medicine. At the same time, exorbitant fees in private institutions restrict the entry of students from middle or lower income families which puts them at a huge disadvantage.
These institutions used to be able to conduct their own entrance tests and counselling sessions for admission till 2015. Since 2016, the institutes started admitting students through the single National Eligibility-cum-Entrance Test (NEET). According to PTI, nearly 6.11 lakh candidates have cleared the exam and qualified this year.
As of now, there are no laws on fee regulation for private institutions, neither central nor state. In 2005, the Supreme Court held that private institutions were free to fix their own fee structures but the government could regulate it to prevent profiteering.
While the Madras HC has asked the HRD ministry and UGC to come up with a fee structuring committee, the court impleaded all the 10 deemed universities in the state as respondents and issued notices to them to file their responses by 17 July over the PIL that sought fixing of a fee structure for medical courses offered by deemed universities in Tamil Nadu.
In Kerala, a government-appointed committee declared on 26 June that the fees for Bachelor of Medicine, Bachelor of Surgery (MBBS) course at private medical colleges in the state was fixed at Rs 5.5 lakh per annum.
The fee structure will come into effect from the current 2017-18 academic session.
Some medical colleges in the state demanded to fix the fees at Rs 15 lakh per annum. The committee rejected the demand and called it "exorbitant, exploitative and profiteering".