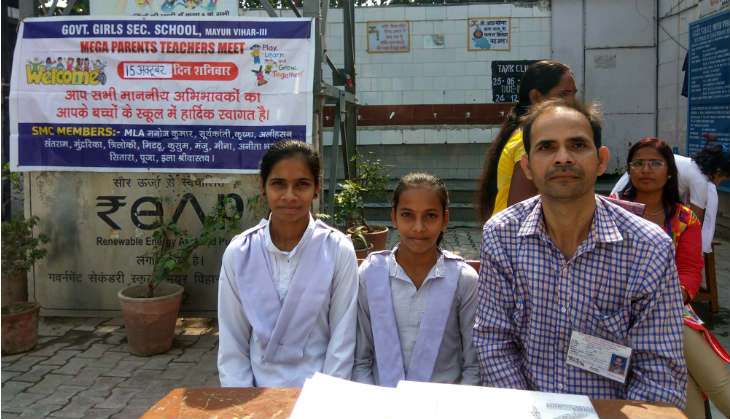 Trilok Singh, a barber, attends the second edition of Mega PTM with his daughters in Mayur Vihar III
Trilok Singh, a barber, sits on a bench with refreshments, waiting for his two daughters to arrive from home. He's taken a break from his shop chores to attend the Mega Parent Teacher Meeting (PTM) at Government Girls Secondary School in Gharoli village on Saturday.
"Time slots have been allotted to everyone. This helps in avoiding chaos," says Singh, who is also a School Management Committee (SMC) member. "There are not enough classrooms in our school. We have requested the authorities to look into this. I came to know that the file has finally been approved. Hopefully construction will start soon," he adds.
Immediately after, his daughters - Simran Singh and Kajal Singh - dressed in white uniforms, walk into the school compound. The trio head towards a section of Class VII to collect report cards.
Despite the increasing list of controversies against the AAP government, its education department in Delhi waltzed back into minds of parents with the second edition of Mega Parent Teacher Meeting (PTM).
Till evening, more about 80% parents had turned up for the meet, sources claimed. The primary aim of the PTM is to connect teachers with parents, creating a platform to discuss academic assessment, learning developments and highlight troubled areas.
Also Read: AAP's PTM plan for Delhi govt schools a hit; miles more to go still
Evolving Education