Trilok Singh, a barber, sits on a bench with refreshments, waiting for his two daughters to arrive from home. He's taken a break from his shop chores to attend the Mega Parent Teacher Meeting (PTM) at Government Girls Secondary School in Gharoli village on Saturday.
"Time slots have been allotted to everyone. This helps in avoiding chaos," says Singh, who is also a School Management Committee (SMC) member. "There are not enough classrooms in our school. We have requested the authorities to look into this. I came to know that the file has finally been approved. Hopefully construction will start soon," he adds.
Immediately after, his daughters - Simran Singh and Kajal Singh - dressed in white uniforms, walk into the school compound. The trio head towards a section of Class VII to collect report cards.
Despite the increasing list of controversies against the AAP government, its education department in Delhi waltzed back into minds of parents with the second edition of Mega Parent Teacher Meeting (PTM).
Till evening, more about 80% parents had turned up for the meet, sources claimed. The primary aim of the PTM is to connect teachers with parents, creating a platform to discuss academic assessment, learning developments and highlight troubled areas.
Also Read: AAP's PTM plan for Delhi govt schools a hit; miles more to go still
Evolving Education
Forty-eight-year-old Shakuntala, a librarian, has been working in Delhi government schools for the last 19 years.
"Earlier, we'd just circulate same set of books. But over the last few years, new books have arrived. We now have value-based books, books on swacchata and special books for non-readers. This makes a lot of difference to the children. In our school, most kids come from impoverished backgrounds, where even basic cleanliness and hygiene are an issue. Some don't even take a bath or clean up before school," she says.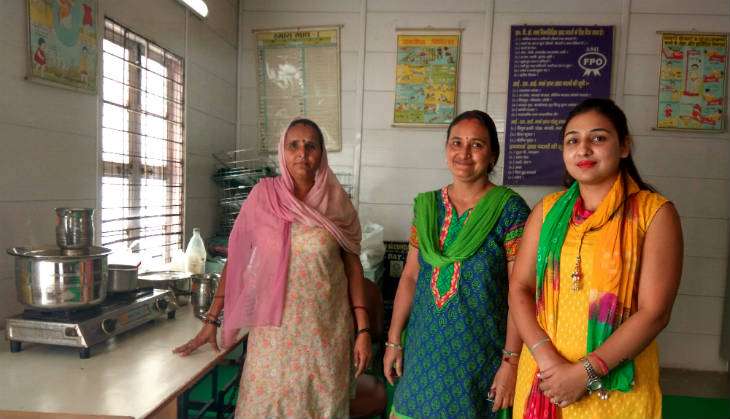 Shakuntala (centre) and Pooja Yadav (right) greet parents during the Mega PTM
With the help of the new books, Shankuntala and her peer teachers have been trying to motivate kids to adapt cleanliness and moral lessons in daily life.
Adding to this, 30-year-old Pooja Yadav says, "For the first time, we've received Pragati book series. This has helped in teaching some practical lessons." Yadav, a contractual teacher takes computer lessons for all classes.
Also Read: AAP is working to improve government school education. With feedback from 1 teacher at a time
Catch also caught up with some parents, many of whom were pleasantly surprised with the overall academic progress and extracurricular learning of their children. "Her results are good. Her teacher was happy. I am happy," said Neetu Tyagi, mother of a Class VII student.
Some, however, faced a different reality.
The Red Flags
"Kaise kaam chalega agar padai nai kiya to? Thoda to aapko sab to mehnat karna padega? (How will it work, if you don't study? You have to put in some hardwork)," Catch overheard a classteacher briefing a man and his daugther.
Later, she told us (on condition of anonymity) that some parents fail to engage with children.
"Education is not the foremost factor in some families owing to their financial, economic or social conditions. These parents are simply not interested in the academic progress of the child. They should motivate their kids to perform better," she said.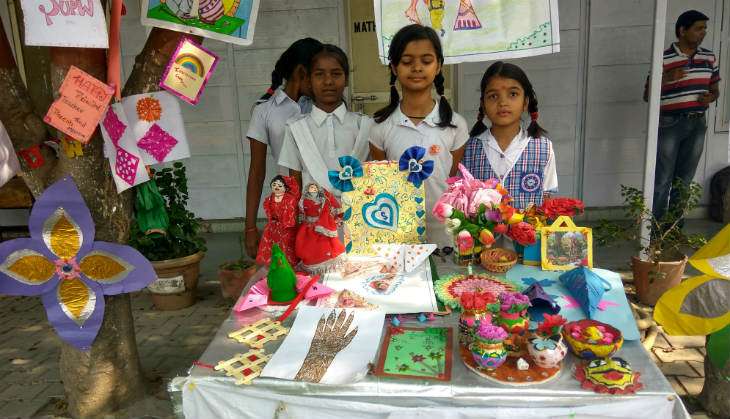 Children showcasing their artwork during the Mega PTM
Anju Bhardwaj, principal of GGSS Gharoli, however denies this.
"It's not that parent don't want their children to do well. They don't know what to do if the kids are not performing well. 'Ab fail hogaye, to kya karen? (They have failed, what do we do?)' they say. These parents are clueless. Noone pointed out the next steps."
This is where the initiatives like Mega PTM works - in bridging the gap.
"Through the PTM, parents are being told politely what steps should be taken to engage the child. Participation of so many parents in these PTMs prove that parents want to help their children. They just need a direction, which lacked in previous government school set-ups," says Bhardwaj.
Chunauti 2018 & The Challenges
Three government school principals (on condition of anonymity) confirmed to Catch that the results of first term results has been below expectations.
"The results were compiled yesterday. I am just stunned to know that so many of my kids don't know to read or write! Another fact that has emerged that most of the children, who are unable to read have shifted from MCD schools. I thought we are taking right steps, but so much more needs to be done," says one principal, further admitting that a such a ground-level need analysis was overdue.
Another principal said, "I was just conducting a meeting with my teachers, trying to understand why children are not performing well despite focus on activity-based learning. We think that children are being spoon-fed - even in activities. They are not inferring lessons on their own."
"Chunauti 2018 is a difficult target. I don't know how will we manage. But let's not give up now that the good work has started," said the third principal.
Also Read: AAP govt's latest reform: no child to be left behind in Class IX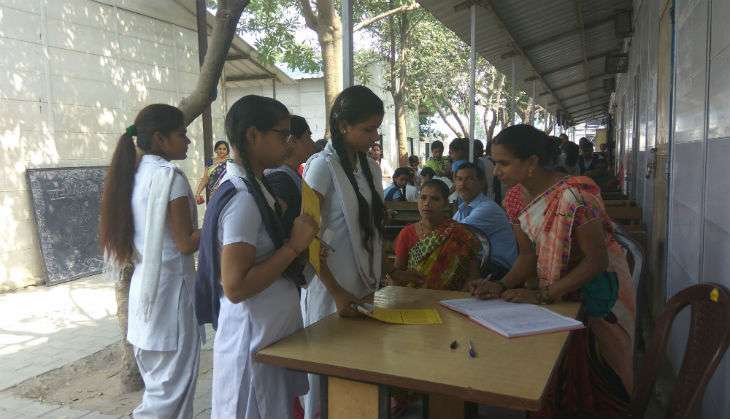 Parents sign the attendance sheet after collecting report cards from school
Funds & Feedback
One of the important contributions of the current state government is increasing budget allocation towards education and making funds accessible at ground level.
"Suddenly, in the last two years, we have access to much more funds. Today, my entire staff quota is complete. Contractual teachers are on board. New labs are being setup. I am able to undertake projects without any financial hiccups. We're not handicapped anymore," says a principal, on condition of anonymity. "Yet, I feel, much more needs to be done. We need more classrooms, better infrastructure among several other things," she adds.
When Catch got in touch with AAP government officials, they admitted that challenges such as 'learning-level deficits' have been existing for a longtime, to which solutions are being figured out.
"We're introducing intervention programmes for this across the board. We've an initiative for converting non-readers into readers. More steps on similar lines are being taken to change the situation. It takes time to correct the mistakes of the past and facilitate a positive environment. Today, you'll find that more classrooms are being created, renovations undertaken. After the construction of initial 8000 classrooms, more will be sanctioned," says Atishi Marlena, advisor of Deputy CM.
Speaking about parents, she said, "They have never received a platform for engagement. PTM is an apt engagement platform. With the second PTM, we've provided more clarification on child's development."
Deputy Chief Minister of Delhi Manish Sisodia visited some schools on Saturday. In a release, he said, "We are very happy with the amazing turnout of parents even for this PTM. Parents have found the perfect window or platform to engage and interact with their children's teachers. It is an excellent opportunity for both parents and teachers to understand the child's requirements better. Everyone, teachers, children, parents are happy about PTMs."

Also Read: In Delhi's govt schools, kids soak in summer camps, thanks to AAP