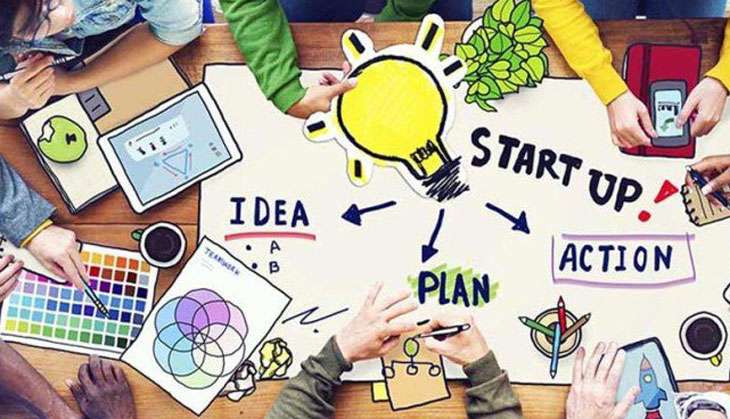 In the ever-crowded space of start-ups and start-up stories, there are few who are backed with solid technology and a revenue plan in place. In this article, Catch spoke to three such startups - all based in education technology (EduTech) - who are instead trying to create a niche for themselves through solid business models and some unique learning and technological experience.
Cracku
Cracku Founders (from left to right): Srikanth Lingamneni, Maruti Konduri and Sayali Kale
A couple of years ago three IIT-IIM alumni - Maruti Konduri, Sayali Kale and Srikanth Lingamneni - sat together, brainstorming on ideas for start-ups.
Out of the trio, Lingamneni and Konduri were friends for over 15 years. Both of them had shifted to Hyderabad from smaller towns to prepare for Joint Entrance Examination (JEE), where they met and struck a friendship. The duo studied at IIT Bombay and worked with Rediff for some time. Later, both left their jobs to pursue MBAs - Konduri went to IIM Ahmedabad while Lingamneni went to IIM Calcutta. Kale - an alumnus of IIM Ahmedabad and VJTI Mumbai - left her job at Citibank to join the duo.
"We realised that education is a good sector to focus on," says Konduri, further adding, "We (Lingamneni and Konduri) were both lucky that our parents uprooted their lives and shifted to a new city to help us prepare for IIT. But there are so many students who are not that fortunate but yearn for good education. In this age of digitalisation, we feel that is not necessary either. A student can be situated anywhere in the country, but with a smartphone, he/she can get access to top quality education. That is our aim."
And thus was born Cracku - an online platform that wants to 'revolutionise the way students prepare for entrance exams.' The founders bootstrapped the company.
Today, Cracku has a user base close to a quarter million and they using their own money to expand further. "A few VCs approached us last year but we decided to not take any investment. We are a cash-rich company, so we are not looking for any external investment as of now," says Konduri. The company intends to enter GMAT and GRE preparation space in the coming few months along with expanding their footprint in government and private jobs preparation space.
"We have students who enrolled in our courses from various parts of the country - including Kashmir valley, many villages in the North East, etc. The youth of the country are aspirational and want to move forward in their lives. Our aim is to make a small difference to their lives and help them achieve their dreams," add the founders.
Admito
Admito Founders (from left to right): Suprabhat Sen, Manu Jain and Mukesh Kumar
When Manu Jain went through the gruelling ordeal of selecting a business school post management entrance tests, he knew there's a start-up idea lurking behind this entire experience.
Jain, an alumnus of IMT Ghaziabad, who had earlier founded a website passkarado.com, got together with NIT Jaipur graduates Suprabhat Sen and Mukesh Kumar, to build a 'unique' algorithm to help students make a conscious decision while choosing their MBA college. The trio pitched their model to two IMT professors.
And in 2014, Admito was born.
That same year, Admito was selected as start-up of the year to be incubated by IMT Ghaziabad.
In September 2015, the founders bootstrapped to formally launch the company.
"In one year, Admito has helped more than 3,000 aspirants select their B-Schools," says Jain. "We're planning to expand our user base to over 15,000 this year," he adds.
Admito and its founders have gone through all kinds of start-up trouble - from market-fit to cash crunch to developing an appropriate business model and marketing strategy.
Over the last few months, Admito has been approached by some accelerators and VCs. "But we want to do it on our own. It's a journey we're looking forward to," say the founders.
SRJNA
Team SRJNA
In 2014, two guys from IIT Delhi, one IIT Bombay and one from XLRI Jamshedpur - Vivek Pathak, Sharad Bansal, Om Prakash, Kapil Arya - got together to form a hybrid education model. Their aim: make a disruptive change in school education.
"SRJNA, a product of Elation Edtech Pvt Ltd, uses real & virtual teaching aids to impart 5D classroom experiential learning and smart online assessment platform with deep analytics for K-10 students, teachers and parents," says Pathak. "It makes the teaching easier and saves the teaching time," he adds.
Today, the company has been valuated at Rs 30 crore and has reached more than 45,000 students. Seed funded by Rajasthan Angel Investor Network, the company has been incubated at Startup Oasis, mentored by CIIE-IIM Ahmedabad, University of California - Berkely and recognised by IITs, IIMs, XLRI, Department of Science and Technology (DST) and Rajasthan Education Initiative (REI).
"We were the second best educational startup in intel innovate for challenge, 2015 under digital India program. We are seed-funded by RAIN and Angel investors. We are looking for the raise of $6 million for scalability," says Pathak
In the next five years, the founders intend to make their presence felt across the schools (government and private schools) in India.
Edited by Aishwarya Yerra