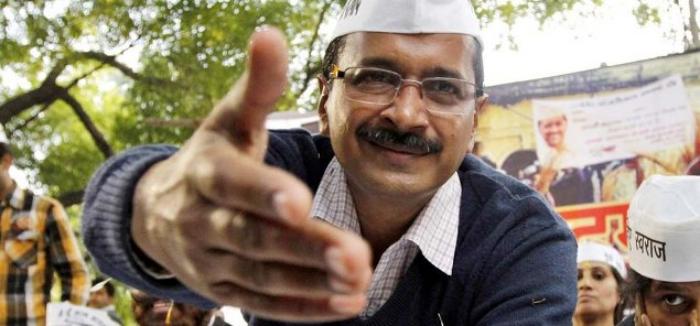 Arvind Kejriwal, the Chief Minister of Delhi, has been making headlines for the right or wrong reasons ever since he emerged as a prominent part of the India Against Corruption movement in 2011-12.
After having galvanised the country against one common foe, i.e. the wide-spread corruption in the country, he announced the formation of a political party on 26 November 2012, to make sure that necessary changes could be made from within the system.
On 14 February 2015, Kejriwal took oath as the Chief Minister of Delhi after his party swept the Assembly elections, securing 67 seats out of the total 70.
He received popular support from youth on social networking sites like Twitter and Facebook and managed to garner a large fan base on the internet.
There were multiple independent campaigns run by individuals on the internet, praising Kejriwal for his 'honesty and integrity' and asking people to vote for him in the elections. One such unique initiative was taken by Virat Marwaha Productions who produced a video titled 'Ishq Kejriwal' and it went viral at that time.
Today, 10 days before Aam Aadmi Party turns three, 'Ishq Kejriwal' has become a popular Twitter trend with people sharing their love and support for the Delhi CM.
Here are some of the Tweets:
Must watch this old Video of #IshqKejriwalawesome.We love Kejriwal bcz He loves India& Indians and serving 4 them https://t.co/KH0uIU8dVI

- Mahendra Raghuwanshi (@msrbpl) November 17, 2015
@ArvindKejriwal fulfilling his promises one by one. That's why ppl are mad in #IshqKejriwal BJP cozing up with cong that's y BJP is Congress

- Ravi (@RR4900) November 17, 2015
देश भगती और ईमानदारी के कीटाणु किसी ने युवाओ में जाग्रित किए है तो वो है केज़रीवाल #IshqKejriwal AAP">@Susmita_AAP pic.twitter.com/gC5jndB3XX

- Bodhraj Bhardwaj (@bodhrajbhardwa1) November 17, 2015
#IshqKejriwal has brought ppl fm all walks of society,religion,culture together! It is indeed an alternate politics! Thanks @ArvindKejriwal

- Asif (@Asif_AAP) November 17, 2015
Either you are in #IshqKejriwal today or you hate him today to get into #IshqKejriwal tomorrow

- Ravi (@RR4900) November 17, 2015
I did not know a word about politics or social responsibility. Then I heard @ArvindKejriwal speak...#IshqKejriwal https://t.co/N2ujBm5rnb

- Preeti Sharma Menon (@aapkipreeti) November 17, 2015