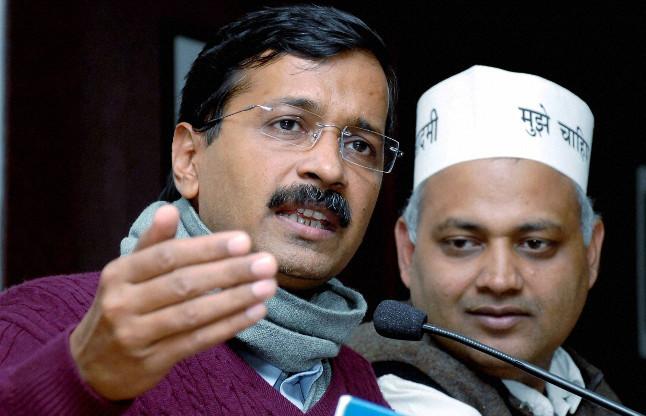 The Delhi Chief Minister and Aam Aadmi Party (AAP) chief Arvind Kejriwal, today broke his silence on the domestic violence charge against AAP MLA Somnath Bharti and said that he is becoming an embarrassment to AAP as well to his family.
Taking to micro blogging site Twitter Kejriwal wrote, "Somnath should surrender. Why is he running away? Why is he so scared of going to jail? Now he is becoming embarrassment for party and his family. He should cooperate with police."
On 22 September night, at least 50 officers and eight police teams launched a manhunt in search of Bharti after the Delhi High Court had rejected his anticipatory bail.
Bharti is not surrendering and his lawyer, claimed that he will file an anticipatory bail plea in the Supreme Court today.
Two special teams of south-west district police also carried out raids at both his office and residence in Malviya Nagar, but the lawmaker remained elusive.
However the police had detained Bharti's assistant and another person for questioning, but they were reportedly released late on 22 September.
Somnath shud surrender.Why is he running away?Why is he so scared of gng to jail? Now he is becoming embarasment for party n his family(1/2)

— Arvind Kejriwal (@ArvindKejriwal) September 23, 2015
He shud cooperate wid police(2/2)

— Arvind Kejriwal (@ArvindKejriwal) September 23, 2015