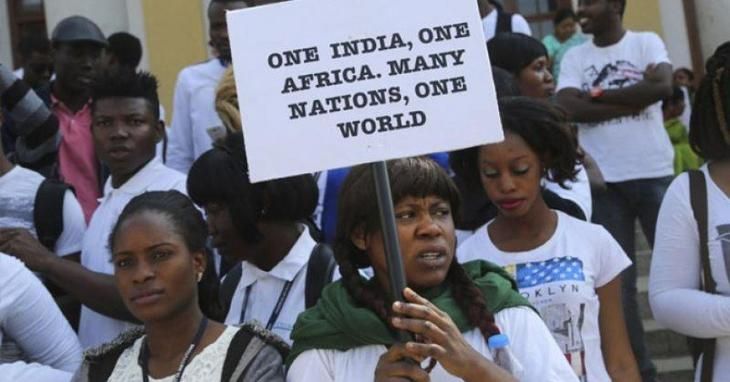 A week after Congolese national Masonda Kitanda Olivier was beaten to death in New Delhi's Vasant Kunj area, a number of African nationals were reportedly attacked on the night of 26 May in the Rajpur Khurd village in Chattarpur.
Reports are unclear on the exact number of people who were attacked, with some pegging the number to be as high as 12. Four groups of African nationals were reportedly targeted in separate attacks by the mob - comprising at least 10 men - who allegedly beat up the victims with sticks, iron rods, and cricket bats.
Seven people were injured in the attack.
The victims include a Nigerian couple and their infant son, a brother-sister duo from Cameroon, and two men from Uganda and Nigeria respectively.
Also Read:12 Africans attacked in south Delhi village, no arrests so far
The victims have all alleged that racial slurs were hurled at them before they were physically attacked.
The attacks have drawn widespread condemnation. The victims have reportedly planned a protest march at Jantar Mantar on 31 May.
Jason, a Nigerian national who is reported to be a part of the group that is organising the protest, said that the first scuffle broke out after a Nigerian national claimed that a group of men had attacked him and his companion for no reason. The Indian Express quoted Jason as saying, "After that, they started targeting other African nationals in the locality... it seemed like a pre-planned attack."
Another African national has alleged that he was beaten up by a few men after they stopped his auto.
On 27 May, ten of the victims helped identify the attackers, the Telegraph reported.
Also Read:Attacks on Africans 'minor scuffles' and not racist: Delhi Police
Four separate cases have been registered against the people responsible for the attacks, for voluntarily causing hurt, criminal intimidation and wrongful restraint. Nine people have been detained. Two people were arrested in connection with the case on 29 May.
While the victims described these attacks as racist, the police described the attacks as "minor scuffles" and "isolated incidents" caused by "their loud music and public drinking". Deputy commissioner of police (south) Ishwar Singh said,"These are isolated incidents, not a planned attack. It's not as if there's a public movement against Africans."
However, residents of the village seem to have a different story to tell. Residents of Rajpur Khurd told the Indian Express that the influx of African nationals moving to Chattarpur in search of accommodation had made the "residents lose their peace of mind". "They dress provocatively and are out on the streets till late in the night, drinking and creating a ruckus. Even if they are not fighting, the way they speak makes it seem like they are having a fight. This is not our culture and it is very difficult for us to accept it," the Indian Express quoted a Rajpur Khurd resident as saying.