Namit Hans
| Updated on: 13 February 2017, 6:09 IST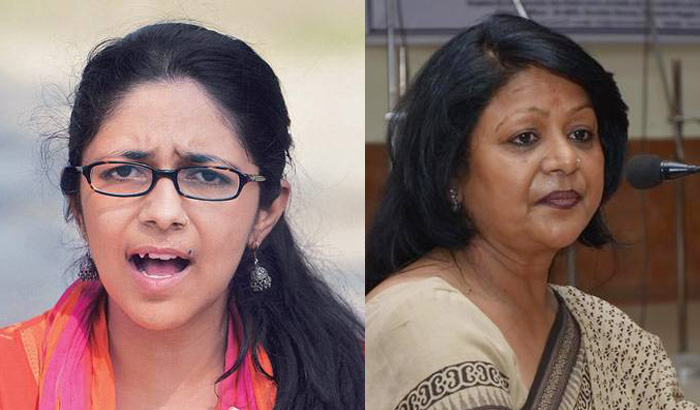 An RTI reply has revealed that former Delhi Commission for Women (DCW) Chief, Barkha Singh Shukla, pursued only one case during her eight-year-long tenure while the current Chief Swati Maliwal has already tracked 147 cases in total. It has been only three months since Maliwal assumed office.
As per media reports, so far Maliwal has made nine different recommendations to the Delhi and Central governments. In contrast, Shukla, in 2008-09, had made only one such recommendation - to provide drinking water and toilet facilities to women living in slum areas.
Other Comparisons
Barkha Shukla had made six field visits during eight-year service including visits to places like Nirmal Chaya-Home for Distressed Women and Sarai Rohilla Shelter Homes.
Maliwal, on the other hand, made 19 such visits - she has paid a visit to sex workers in brothels at GB Road area and has also stayed overnight in four night shelters provided for women in the city.
DCW members under Maliwal have already pursued at least half the number of cases that were pursued by Shukla's team in eight years.
What does Swati Maliwal have to say about it?
Speaking to Catch, Maliwal opined that the commission was operating like a 'kitty-party' commission in the past and hence, no concrete work was being done. There was no proper system put in place and this data has proved just that.
"I am not treating my work as politics and I am working at the grassroots level. That is why there is so much improvement," she said, when asked about her approach to the cases.
When questioned about the limited role of DCW and the number of cases that were actually resolved in the end, Maliwal replied, "The commission has multiple responsibilities like counselling women who are involved in cases of domestic violence and encouraging them to pursue the case in court. It also includes coordinating with lawyers and police. However, I do not have the exact number of cases which were successfully resolved but there have been instances where we have intervened in many cases and have been able to help as many women as we can."
In addition, she said that all the agencies have been supportive of the commission's work so far, including the police and government. She also credited the media for playing an important role in helping their commission work better. Maliwal also revealed that they plan to expand their team soon and be more stringent with their employees.
Catch also tried to approach Barkha Shukla to seek her opinion on the issue but attempts to reach her failed.
Appointment and controversy surrounding it
Maliwal was appointed as the DCW chief of 18 July this year as per the Section 4 of the DCW Act,1994. However, the Opposition accused the AAP government of favoritism in her appointment but the government maintained that she was appointed on the basis of her 'merit'.
Maliwal was an RTI activist and youngest member of India Against Corruption movement in the past which led to rumours that she was chosen because of her relationship with the party in power. Also, AAP leader Naveen Jaihind is married to Swati Maliwal.
The Lt Governor of Delhi, Najeeb Jung, had also rejected her appointment citing that his approval was not sought before going forward with it. However, he accepted the appointment but only after a war of words erupted between him and Delhi CM Arvind Kejriwal.