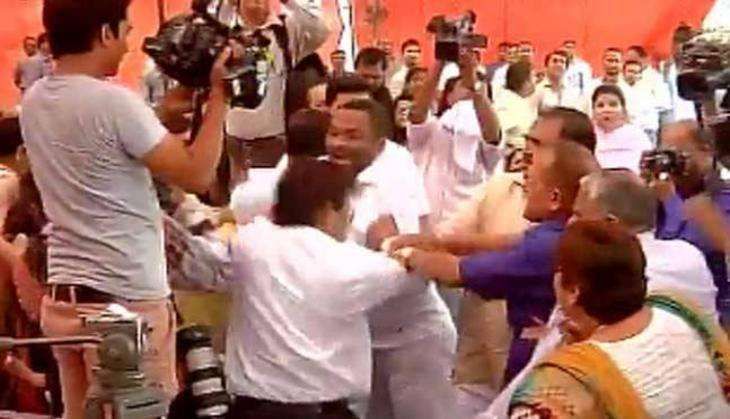 Delhi Chief Minister Arvind Kejriwal has lashed out at the Bharatiya Janata Party. He took to Twitter to call them a "party of gundas" and accused them of being anti-Dalit. Kejriwal's comments come a day after a councillor, who backs the Aam Aadmi Party, was assaulted by
BJP
workers in a special joint session of the three units of Municipal Corporation Delhi(MCD), at Ramleela ground, on 9 June.
Utterly shameful. BJP is a party of gundas. Rakesh is dalit. BJP assaulting dalits all ovr India in a systematic way https://t.co/Ce6YlmMKPq

— Arvind Kejriwal (@ArvindKejriwal) June 9, 2016
A scuffle broke out between AAP councillors and BJP workers at the joint session of three BJP municipal corporations on 9 June.
During the session, the corporations passed a resolution slamming the Delhi CM for not giving funds to civic bodies. The resolution is said to be a reaction to the Delhi Assembly session that was held to discuss the issue of corruption in civic bodies.
Rakesh Kumar, an independent councillor from Kucha Pandit ward in the North Delhi Municipal Corporation (NDMC) area, was allegedly beaten up for wearing an AAP cap.
Neeraj Gupta, BJP ward councillor was caught on camera slapping Kumar - who is known to be an AAP supporter - after a fight broke out when someone in the crowd removed Rakesh's cap.
Watch the video here:
Watch: Clash between AAP and BJP councillors at MCD joint session in Delhi.https://t.co/q9ZFIUu2tj

— ANI (@ANI_news) June 9, 2016
According to India Today, the BJP has dismissed the accusations and claimed that things had gotten out of control after the AAP councillor hurled abuses at some of the BJP workers.
An announcement was made from the stage at Ramleela ground condemning the incident.