Sudha Murty: 'Our world is not very different from the world of Mahabarata'
Sudha Murty is an engineer, writer, teacher and philanthropist. She works 7 days a week, and walks into office by 6 AM. She hasn't shopped in 20 years and the fact that she is the wife of one of India's richest men hardly comes through when she talks.
Of course, it is not easy to seek an appointment, even if only on the phone, to interview Murty. When she does make time she is interrupted by an important overseas call. When you call again, she is profusely apologetic.
Murty is in the news because she has written yet another book. For those not in the know, she has 24 books and 156 titles to her credit. The first part of her four-part series on the Mahabharata was released on Children's Day. It's called The Serpent's Revenge: Unusual Stories from the Mahabharata (Puffin Books/Penguin).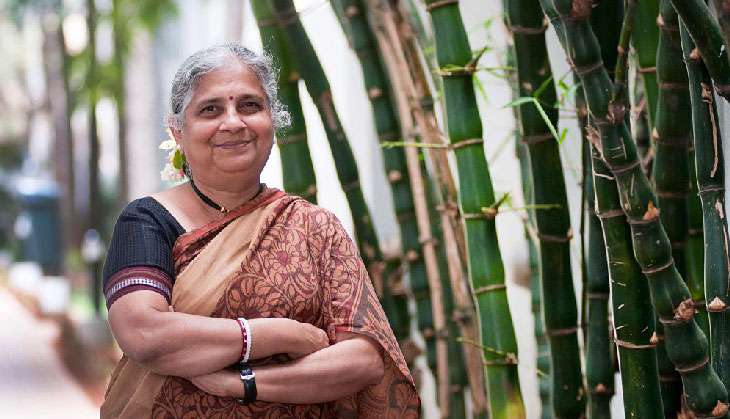 Photo by Aniruddha Chowdhury/Mint via Getty Images
The book is minus all the frills - reinterpretations or exaggerations - and tells the mythological tales as they are. It's the book to flip through if you want to know the basics - "How many names does Arjuna have?", "Why was Yama cursed?" or "What lesson did a little mongoose teach Yudhisthira?" or "Why the Kurukshetra war was fought between the Kauravas and the Pandavas, and why did the gods take sides?"
Or, if you are longing to read what is already not in the realm - largely unheard of stories from Kurukshetra, set before, after and during the war, that lend the Mahabharata its many varied shades.
Also read -Mama's Boys reprises Mahabharata in the modern age. With token gay characters obviously
But there is a lighter side to Murty too, as we discovered during the interview. She loves her movies, had a crush on Dilip Kumar, cried when Rajesh Khanna died and adores Hrithik Roshan. She's also a big fan of Gauri Shinde and is looking forward to seeing Dear Zindagi.
Edited excerpts from the interview:
LH: You are an engineer, writer, teacher and philanthropist - which is the role you find most fulfilling?
SM: I love all my roles.
LH: There is a sudden interest in mythology. Why do think this is happening?
SM: It started with the TV serials based on mythological tales. But I prefer books, because TV limits your creativity. If you are reading a book your mind can soar.
LH: There is also this sudden interest in the retelling of mythological stories...