New twist to old Bollywood songs, courtesy an ardent Pakistani fan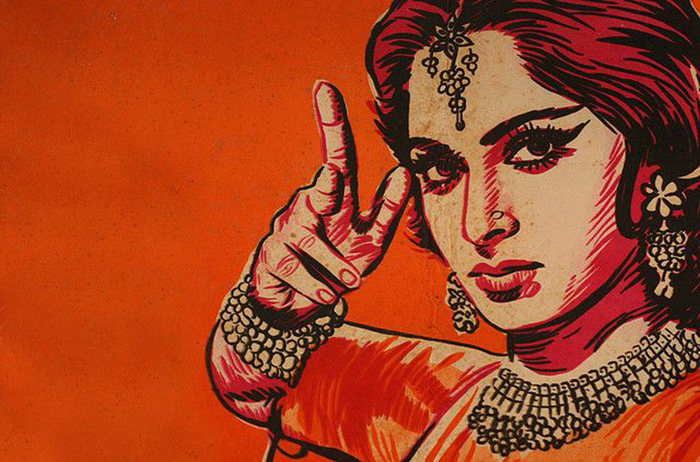 Pakistan's Tahir Gul Hasan parodies classic Bollywood songs. And his tongue-in-cheek transliterations come with an over-the-top disclaimer - "Warning: Parents under eighteen years of age must be accompanied by their children when reading this" or "Warning: Parents who are under twenty-one years of age, must be accompanied by precocious children when reading this".
Little wonder then that the transliterations are rib-tickling. More so if one does what Hasan insists - playing the song while reading his take.
For what began as a freak post of a Mohammed Rafi song "Hum Tumse Juda" on a now extinct internet platform a couple of years ago, Hasan has come a long way. At last count he had parodied 28 songs - all of which are posted on his blog.
Read: Think India and Pak can't be friends? The Lighthouse Project proves otherwise
Hasan's transliterations are based on as much the lyrics as the picturisation of the song. Here's his version of "Tum Agar Mujhko Na Chaaho To Koi Baat Nahi" from the 1963 classic "Dil Hi To Hai":
"(Woman hides behind de-flowers)
If you don't appreciate...
If you don't appreciate my (double-bypass) heart, it is all right
It is all right
But if you appreciate a stranger's (stent-filled) heart, you'll have (medical) problems
If you play with someone else (sitting on that sofa), you'll have (marital) problems"
His transliteration of an equally familiar song - "Likhe Jo Khat Tujhe" from the 1969 film "Kanyadaan":
"(Hey Babe) the (French) letters that I wrote to you
Getting all worked up for you
Turned into wonderful (adult tourism) sights of a thousand colours
When the morning came,
They turned into de-flowers
And when night came, they turned onto (PG-18 movie) stars
(Hey babe) the (French) letters that I wrote to you"
He ends the song on a rather cheeky note: "Now listen to the cheap Urdu copy from India..."
Typically Tahir
Hasan knows Bollywood and he makes it known through his commentary on the songs.
* "Don't mind Pradeep Kumar's attire but look at the 'morni ki chaal' of lovely Bina Rai who married Prem Nath (I told her not to do that)."
* "Yes, these are grown people chasing after one another on a set. Perfectly fair. Those were indeed happier times, no ringing phones, no TV channels; the only channel was that of unstoppable laaaahve!"
Also read- Peace project triggers conflict: Kolkata museum cancels Pak artist's show
* "Here's another classic from the film "Taj Mahal" ("Jo Wada Kiya Woh Nibhana Padega"). The lyrics are awesome. Don't mind the familiar set and the French designer dresses; if Scottish Highlanders can wear kilts, why can't thoroughbred Moguls?"
* "In between rebellion-crushing battles, our glorious emperors wrote and sang love songs for their wives. I believe Shah Jahan loved Mumtaz Mahal to death. Notice how steady the shots are, no panning, no lap-dissolves and no fast cuts. What a treat to the eyes! Enjoy - 'Let the flowers touch your feet - oh baby, baby, baby' ('Paon Choo Lene Do') on the 1963 hit."
* It goes to Kishore's credit that he managed to lure the heart-breakingly beautiful Madhubala (yes, she was a Muslim) into marrying him when Yusuf Khan (Dilip Kumar) turned away from her. Not the voice but Kishore's sense of humour convinced everyone that jesters can indeed sometimes surpass princes in the game of laahve."
The Love-Gum in Bollywood
It is often difficult to guess the song from Hasan's transliteration. And perhaps Hasan is aware of that.
"If you wish to enjoy what I have done here, please open the song's video in a separate window of your browser and let it play, while you scroll to read my reinterpreted lyrics in this window," Hasan writes on his blog.
So "Ranch, Love-Gum, Woes" which starts with "(O baby) gimme your ranch, all of the (love) gum, your (financial) woes" is actually "Tum Apna Ranjo Gham Apni Pareshani Mujhe De Do" from the film "Shagoon".
"This song stars Nivedita (as the other woman at the piano). Waheeda Rahman (as the real woman without a piano), and Kanwaljeet (as the bloke who is stuck between the 'preyty' devils and the deep blue sea-saw of love)."
His comments on the Kaifi Azmi song "Hoke Majboor Usne Mujhe Bhulaya Hoga" had many wondering why Bollywood lyricists could not pen songs like this anymore.
"This is a very long song in wonderful black-and-white. It is totally unsuitable for today's suicide bombing Tall-Ebans, who think of heaven and not their beloveds at home."
He praised Madan Mohan for "Zara Si Aahat Hoti Hai" and challenged readers to come up with an English equivalent of the word "aahat" - which they couldn't.
In the song "Palkon ke Peeche Se" he writes, "A useless garden-chase follows during which nothing happens; the birds mating in the trees are truly embarrassed at the colossal waste of time the humans indulge in."
"The fake romance takes place in a real garden somewhere in occupied Kashmir. The hero wears a tie - a gross violation of the tribal traditions. The girl, dressed in a nice skirt, displays a miniature statue of puberty in her hair, and walks all over barefooted because the local cobbler has not returned her shoes."
Talent Unlimited
Hasan studied history and English literature, lives in Lahore and likes writing "social comment mixed with satire; something that not many fed on lies can digest".
There is little else that he would like to share. Or even his picture. "Nice of you to ask..." reads his short reply to a request for an interview.
A Google search that his name throws up describes him as an aviator, writer, photographer and musician.
Read more: Pakistan number calls Jaipur youth, offers Rs 1 crore to join IS
In one of his entries on the blog he mentions that he wrote a song called "Pyaar ki Pyaas" for a Pakistani pop band called Wet Metal way back in the early 90s.
"The composition, sequencing, recording and mixing were done by yours truly at his home studio (Sound On Sound, Karachi). All instruments, except the guitar solo, were also played by yours truly, the debut album's producer."
He claims that this was "a breakthrough song for the now internationally known Pakistani singer Najam Shiraz".
A lot of research goes into his songs. And not all songs are easy to transliterate. Try the English for "Eena Meena Deeka".
Or "Teri Duniya Se Hoke Majaboor Chalaa/Main Bahot Door, Bahot Door, Bahot Door Chalaa/Is Kadar Door."
"From your (Moulin Rouge = Maulana Raaj) world, helplessly I move away
I'm going very far, exceedingly far, going extremely faaaar". Only Hasan could have done this favour to Bollywood.
Edited by Joyjeet Das
More in Catch:
HCU standoff continues: Students stranded without food. Kanhaiya refused entry
Biggest tax offender back on radar: ED claims new evidence on Hasan Ali
That unusual thing about Fawad Khan's gay character in Kapoor and Sons
Why we love to hate Vijay Mallya and don't care about other wilful defaulters