Tragic that a British law used to silence us is still being used today: Antara Dev Sen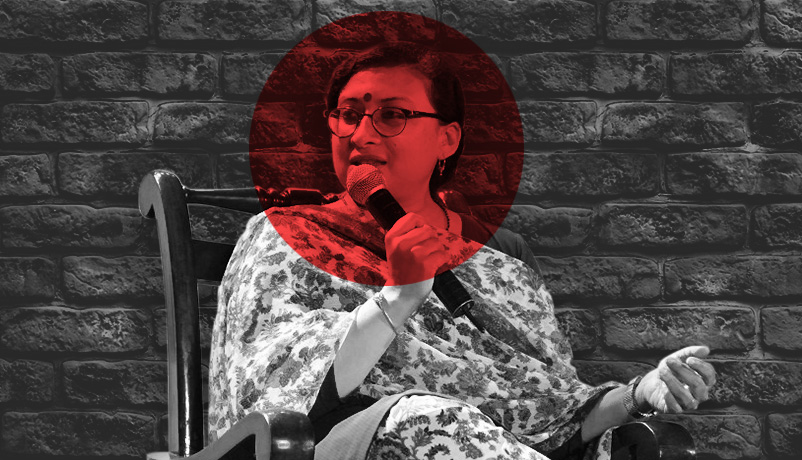 At the heart of what's happening at Jawaharlal Nehru University is a fundamental disconnect: between the State's understanding of education, and between the purpose of education itself.
As a seat of learning JNU, like any other university, prepares its students to engage with ideas, politics, and complex issues of equity and justice.
Yet, the questioning of political thought in public has led students' union president Kanhaiyya Kumar to be arrested on possibly the most serious charges in a nation's law books: of sedition.
Read: A for Award Wapsi, B for beef... 2015 will go down as the Year of Intolerance
That would be shocking even in countries not purporting to be free-thinking democracies; in ours, it is nothing short of draconian.
Antara Sen Dev, commentator and editor of The Little Magazine, tells CatchNews she thinks it is tragic that an old and decrepit law enacted by the British is now being used to silence dissent.
"It is extremely unfortunate that our politics of patriotism would like us to believe that India's sovereignty and integrity need to be protected from every little burst of anger or frustration," she says.
Edited excerpts from an interview:
How do you feel about what has unfolded in JNU over the past week?
I wish I could say it was bizarre, or stupid. Arresting a student leader for sedition because some other students were shouting allegedly 'anti-Indian' slogans inside a university campus does seem bizarre, or plain stupid.
But it's actually much worse. When a right-wing government uses a sedition charge to arrest students of an intellectually-vibrant, left-leaning university, it is a brazenly horrifying act to silence dissent.
Do you see it as an overreaction, or worse?
The government should not have reacted at all. It has better things to do than slapping students in jail for airing their views within a university.
Student organisations are supposed to take care of student issues within universities. What is the point of student elections and student unions if the government wants to handle campus matters directly?
The government should have left it to the student organisations to sort it out. The BJP should have had some confidence in its student wing, and left it to the ABVP to handle.
Also read: After SRK, Aamir Khan speaks about growing intolerance in India
And the invocation of Mother India and nationalism by Smriti Irani and Rajnath Singh? Do you see that as misplaced?
That depends on what your real intention is.
If you intend to let universities be the seat of independent thought, where students learn to debate views on everything including politics, it was certainly not necessary for high profile Union Ministers like Rajnath Singh and Smriti Irani to read in this incident an anti-national act or an insult to 'Mother India'.
However if the government actively wished to silence dissent in universities, it was indeed necessary - to drum up popular support for the government's acts that followed, namely arresting protesting students for sedition.
Is India's sovereignty and integrity as fragile as the two ministers want us to believe?
Certainly not. And it is extremely unfortunate that our politics of patriotism would like us to believe that India's sovereignty and integrity need to be protected from every little burst of anger or frustration.
So where, if anywhere, should the line be drawn?
At violence and direct incitement to violence. The line should be drawn at the point where debate would be replaced by violence, at the point where logic, empathy and argument are forsaken to forcefully silence other points of view.
What is the role of universities in a democracy, in your view?
Universities are pockets of intellectual ferment, including academic stimulation. Most of all, liberal universities in democratic countries are seats of learning where independent thought is encouraged, where students learn not only about their academic subjects but also about life in general.
It is part of growing up, looking at the world around you and trying to make sense of it as an adult. More than anything else, a successful university is supposed to make you think, question, and seek answers, not just memorise lines from books.
Read more: Take up issue of intolerance in India with Modi, 200 writers including Rushdie urge Cameron
A university is a nurturing ground for independent thought and debate, for democratic rights and freedoms, it is where you learn to raise your voice against what you think is wrong, to exercise your right to dissent.
We seem to be seeing repeated intrusion of government in universities...maybe because they see student politics as part of their domain?
No. Universities are supposed to benefit from student politics, which is very different from national politics. It is in one sense narrower, because it focuses largely on issues students face on campus, including academic issues, and on the other hand it is much wider than national politics because it deals with the whole world and all that's in it.
The government of India is not supposed to interfere. But it does, repeatedly. By which it not only undermines the autonomy of universities but also further weakens student politics, which is anyway walking a tightrope with national parties fighting shadow wars through students wings. The government's muscle-flexing in university matters so soon after Rohith Vemula's suicide is particularly disappointing.
And the sedition charge itself - what do you feel about that?
A sedition charge has no place in a democracy, especially one close to 70 years old. It is an old and decrepit law by which British rulers tried to keep us, the natives, submissive and silent. To smother voices of dissent. How tragic that it is now being used by us to silence ourselves.
What do you foresee as the long-term impact of this incident?
That will depend on what we choose to remember and what we choose to forget. We may remember that the BJP has a history of meddling in university affairs if it is in power - like it did in M.S. University, Vadodara, when Narendra Modi was the chief minister.
While BJP goons had vandalised the students' art exhibition because it was offended by some artwork, the government clapped the student artist in jail, effectively forced the Vice Chancellor to resign, and tried very hard to ruin the lives of anyone who stood up for freedom of expression.
Also read- Welcome heat: After writers, 400 artists speak out against intolerance
Now, as the party ruling India, the BJP has more opportunity to nip dissent in the bud by targeting universities around the country.
Unfortunately, sections of the media have taken a rabble rousing kind of nationalistic stand on the JNU issue, which is not only disastrous for free speech and dissent, but also blurs the line between media and propaganda, attacks our right to debate issues that affect us, and thus weakens democracy.
If we remember our history, our basic rights and what the Constitution promises, and disregard the media's lashing and propaganda, we will not allow government muscle-flexing in universities to weaken our democratic institutions and stifle dissent.
Will this trigger a contagion of fear, of self-censorship across other campuses?
I hope not. Thankfully, the young are far more resilient and in a sense wiser than the god-fearing and state-fearing middle-aged and elderly. Of course they need our full support.
So we need to strongly oppose what many media channels seem to believe - that a government-sponsored university must have space for only government-sponsored views. As citizens of a robust democracy, we need to oppose anything that undermines democratic freedoms. Only then can universities remain pockets of independent thought, new ideas and free speech.
Edited by Payal Puri
More in Catch:
Amartya Sen slams 295 A. Says right to free speech greater than religious sentiments
Deadpool: Foul-mouthed. Gore-fest. Arguably the funniest superhero movie ever
Activist Jashodaben: PM's estranged wife attends slum protest in Mumbai
Prakash Karat: "Police action in JNU is a planned move by RSS & BJP"