If I had to live my life again, I wouldn't change it much: Ruskin Bond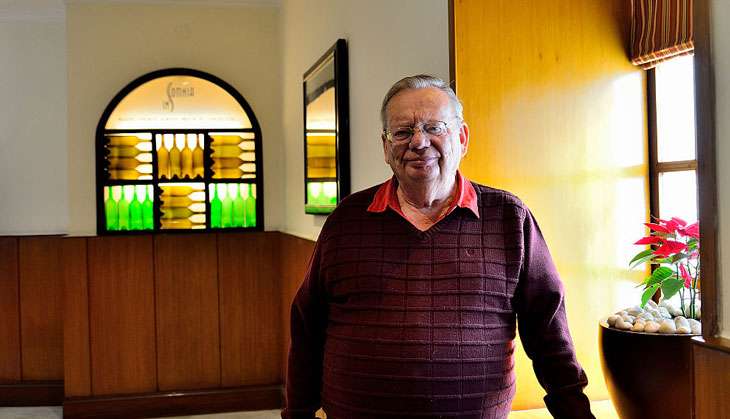 Ruskin Bond (Getty Images)
Ruskin Bond loves putting pen to paper. Not the fancy fountain pens that are gifted to him by the dozen, but the ball-point. This relentless pursuit for over four decades has resulted in a huge body of work - and plenty of ghost stories.
In his newest Whispers in the Dark: A Book of Spooks by Puffin Books, Ruskin Bond invites his old pal Sammy, who now lives in Spiritland, to write the introduction. Sammy who drowned in the school swimming pool eons ago and has since been an active member of the world of spooks, writes that Ruskin Bond's stories "aren't too bad" and wishes that the book sells "a million".
That's an insider perspective. Catch gets another from the living legend himself.
Ruskin Bond, who turned 82 in May, tells us that he may have never seen a ghost but he can sense them around him, that the voices he hears at night in his house don't scare him, that the idea of being caught at a 5-star hotel without money to pay bills is scarier.
He also talks about his life in the hills where he moved over four decades ago, the love for writing, and why he would want to live this life all over again - never mind the angst of the bank balance running low.
Here are the edited excerpts:
LH: In the introduction to the book, your old pal, Sammy the ghost, complains that you are not very psychic. He waves out to you, walks right into you, but you don't notice him.
RB: (Laughs) I wouldn't say I am particularly psychic. Most of these [ghost] stories are inventions of mine. Or may be they are tales I have heard from other people who might have had those experiences.
I have to confess I don't see ghosts and spooks.
LH: You've never seen a ghost? That's unbelievable.
RB: I have to say that - I haven't seen, but sometimes I feel they are around. I live in an old house and sometimes very late at night - around 2 or 3 in the morning I can hear voices, I can hear murmuring, a conversation. People talking in normal voices to each other, but I can't make out the words - I don't know if it's in Hindi or some language from Timbaktu - but I hear those conversations.
Of course, may be they are there because there is nobody up in this wing of the house at night. They could be ghosts.
LH: These voices don't scare you?