How about coffee on Dal lake with some reads
This summer, tourist visiting Jammu and Kashmir are flocking to an unlikely destination. A boat ride away from Srinagar's Boulevard Road is the state's latest attraction: a coffee shop cum reading room in the middle of Dal Lake.
Read- Not just a bookseller: in Ram Advani, Lucknow loses its cultural nerve centre
"This is very unique, I have never seen a place like this even in San Francisco or New York. Not seen anything like this before anywhere," says Pune-based Prasad Subramaniam, who is visiting the state with his family this summer.
The newly opened Gulshan Books Shop on the Nehru Park island in Dal Lake, has turned into the talk of town in Srinagar. And within no time, students of the Kashmir University have turned it into one of their favourite haunts.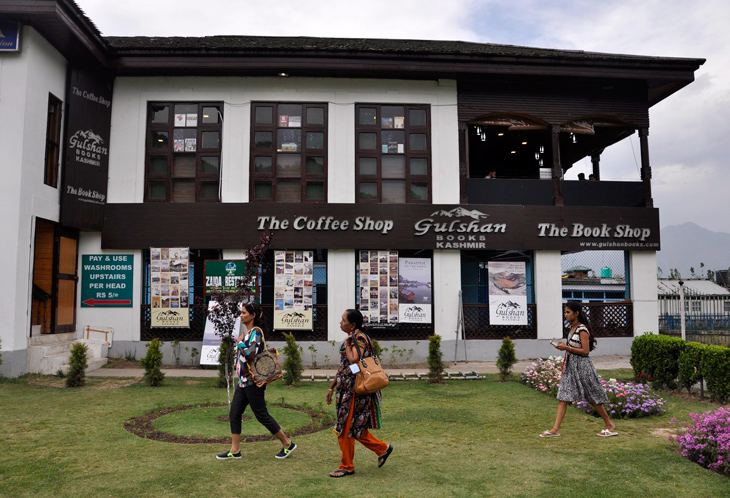 Photo: Syed Shahriyar

The coffee shop houses nearly 1,500 books in English and Urdu, mostly on Kashmir's history, culture, poetry, tourism and religion - including titles such as Aatish-e-Chinar [Blazing Chinars], autobiography of Jammu & Kashmir's former Prime Minister Sheikh Mohammad Abdullah, young Kashmiri author Mirza Waheed's novel Collaborator and a collection of poems The Veiled Suite by another Kashmiri-American poet late Agha Shahid Ali - each with a 'not for sale' tag on it. While the book store next door has over 80,000 titles up for sale

"A book and a cup of coffee, life doesn't get any better," says Nimisha, Subramanium's wife.

Prasad and Nimisha are both scientists. A conference in the University of Kashmir has brought the couple to the Kashmir Valley. And they decide to stay in Kashmir for a few of days after the conference. Clearly, they do not regret their decision.

28-year-old Arsalan Ali looks after the coffee shop, which was recently inaugurated by Jammu and Kashmir's first woman Chief Minister Mehbooba Mufti.According to him about 100-150 tourists visit the place everyday and the number goes up to 250 on the weekend. "Most people who visit the place say it is dreamlike," he tells Catch.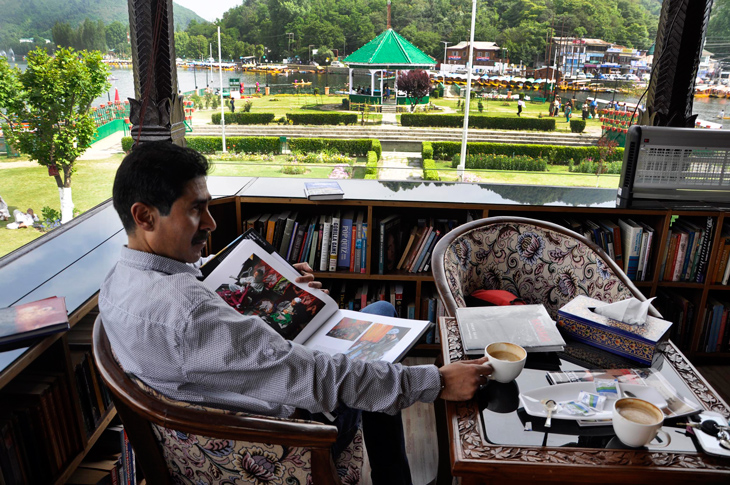 Photo: Syed Shahriyar
Gulshan Book Shop is one of the oldest publishers in Kashmir and is currently owned by Sheikh Aijaz, a fifth generation publisher."
We have 90-year old history in publishing business," says Arsalan.23-year-old Tasleema, a Masters student at the University of Kashmir, says, "It is a wonderful initiative. I hope we establish more such reading rooms to revive the reading culture in Kashmir, especially among the new generation."
Roohi, Tasleema's friend and classmate, says that one feels physically connected to books, which is not the case when one reads on the Internet. "A reader shares a special bond with physical books," she adds.
Also read: Will this viral photo help save Chennai's 'Biggest Little Book Shop'?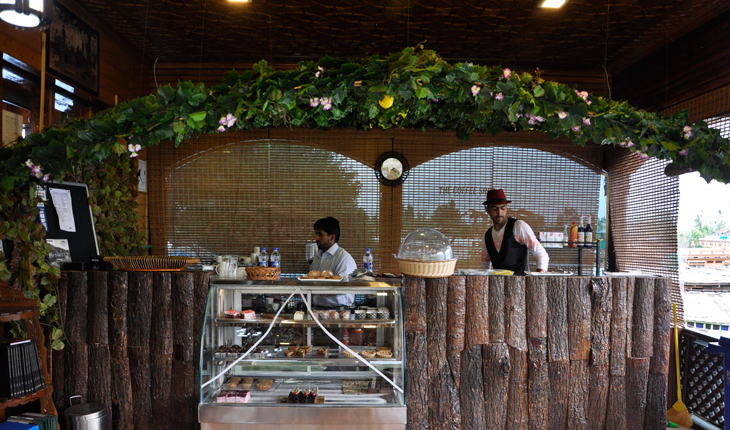 Photo: Syed Shahriyar
Sitting in another corner Nausheen, an engineer by profession and a poet, suggests that the reading room should have books in Kashmiri too. "No doubt, this is a wonderful place and a great initiative. But we should not emulate the West. Let's have more books in our mother tongue [Kashmiri] here as well," she says while sipping coffee.
Nausheen's friend Syed Javed Naqshbandi feels that the new reading room would be hugely beneficial for Kashmir's present generation. "It could be a gift for our young generation. They can read all types of books here. Students can read academic books while people with intellectual bent of mind have variety of choices," he says.
Read more- Yoga's so 2015: colouring books for adults are the new de-stress therapy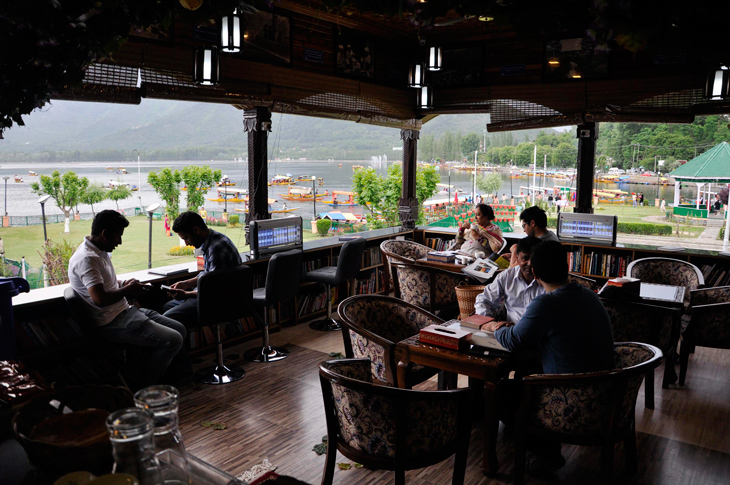 Photo: Syed Shahriyar
The only diversion to book lovers inside the reading room is the captivating view outside. The Zabarwan mountain range, the southern range of the Hindukush and enchanting view of the lake with numerous Shikaras carrying domestic and foreign tourists outside, together present a picture perfect landscape.
Meanwhile, Subramaniam concludes his conversation by saying that he doesn't want to say anything in praise of the scenery outside. "I believe that my words will unnecessarily take something away from the grandeur."
Edited by Cyril Sam
More in Catch:
Ram Advani Was Lucknow And Lucknow Ram Advani
The 9 lives of Amar Singh: Why has Mulayam taken him back into SP?
Brazil's new cabinet is high on white men, low on sense
Ireland and Kerala have a musical connection we bet you didn't know