A crush on Federer. Anxiety about grades. A Nobel Peace Prize. Inside Malala's life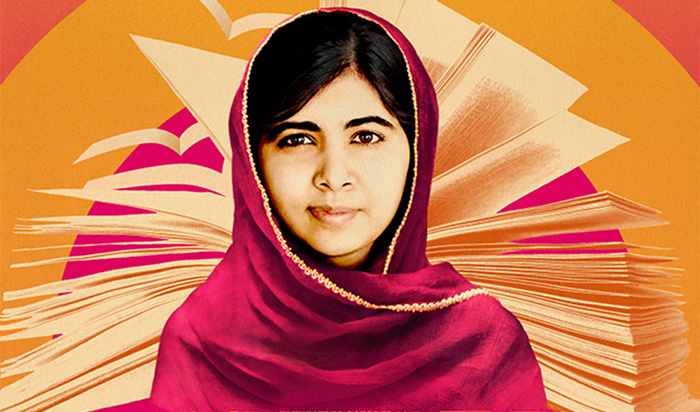 She's powerful enough to shake the world. Powerful enough to win the Nobel Peace Prize as a teenager. But Malala isn't yet powerful enough to bring Delhi into a movie hall in Diwali season.
Not only was I the only person in the movie theatre for this show of He Named Me Malala, I was also the sole person to have bought a ticket to this particular film at this particular theatre all day.
And that's a pity.
Because Oscar-winning director Davis Guggenheim's He Named Me Malala is one girl's story told in a universal language. It's about a fight women face everywhere - the fight for education and the fight to choose their own destiny.
A Taliban target
We're all familiar with Malala Yousufzai's story.
What's impressive is not that she survived a shot to the head by a Taliban gunman in 2012; it's her courage in speaking out in non-violent protest after a viciously violent attack - which is exactly why she became the world's youngest Nobel Peace Prize winner at age 17 in 2014.
The threats haven't stopped. And neither has Malala.
WATCH - You may think you know all there is to know about AAP. Not till you've seen this film
The central relationship explored in this film is between Malala and the man who named her, her father Ziauddin Yousafzai.
Perhaps her destiny truly was in her name. She was named after Malalai - a female folk hero who roused dispirited Afghani fighters to war against the British and was shot and killed in the attempt.
She's living up to it alright.
A parallel between two lives
The film is both heart-warming and nerve-wrangling; a first-person account of the causes, actions and struggles that make up Malala and her father's lives.
The storyline leaps from the Yousafzai family to the Taliban's rise to power in the Swat valley, to Malala becoming an anonymous schoolgirl blogger for the BBC at age 11, to Malala's decision to break her anonymity and appear on camera in Pakistan speaking in support of girls' education. It's completely non-linear.
We see Malala and her father travel from Kenya to Nigeria to the US to London, speaking of tolerance and fairness.
We see her address the United Nations and take President Jonathan Goodluck to task over inaction on bringing back the girls of Boko Haram.
The tension finally peaks with footage of the bus on which Malala and two of her friends were shot, not by a gunman, as her father says, but by an 'ideology'.
Also read - Migrants aren't statistics: three heartbreaking stories show why
In awe of his subject
Guggenheim shows Malala not just as the extraordinary public figure she has become, but also as a teenage girl who scuffles with her younger brothers, worries about grades, and crushes on sports figures like Shahid Afridi and Roger Federer.
And yet, it's obvious through the film that Guggenheim is in awe of his subject. Much of the film strives to show her in a perfect light and some parts even look near-rehearsed - giving it a lack of depth.
Normally, that would destroy a film. But Malala's story is too remarkable to be destroyed by an excess of admiration.
An unusual visual language
There's a sense of tranquility in the illustrations that intersperse the documentary, some of which are used to depict violent parts of the story.
It's an interesting visual tool, but then Guggenheim's skill with the visual is well-known: he took a subject like climate change and made it hypnotically watchable in his Oscar-winning An Inconvenient Truth.
Much of the film strives to show her in a perfect light, but that's not such a bad thing
In this film illustrations serve to highlight pivotal moments that obviously could not be filmed, such as the opening sequence where Malalai climbs atop a mountain to urge the army to keep fighting.
That's only one of the reasons why this film does not come off as your 'typical' documentary. The storytelling is theatrical, almost as if it's trying to rile people to speak out against injustice.
This isn't an unbiased film
And that, it turns out, isn't really such a bad thing. I watched this film in Haryana - a state where the girl child is still mostly unwanted.
And at a time when education is not an option for many young women - 66 million, according to the film - one would think Malala's story needs as much exposure as possible.
Which is exactly why the empty theatre stung all the more.
WATCH - Bollywood's favourite sore thumb: the much-loved and mysterious AR Rahman
Also read - What are neutrinos and why are they worth the Nobel Prize in Physics?