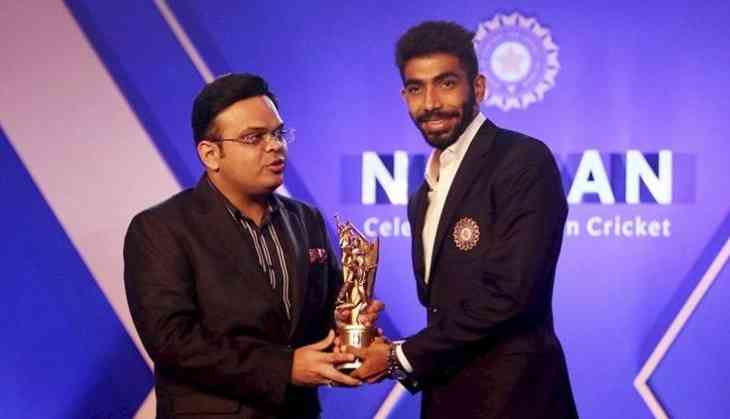 Indian pacer Jasprit Bumrah on Sunday was decorated with the distinguished Polly Umrigar award alongside Dilip Sardesai honour for his vitally important contribution with the ball.
Polly Umrigar award is awarded to the best male international cricketer while Dilip Sardesai award is for both the highest wicket taker and highest run scorer in Test cricket. Bumrah scalped 34 wickets in six games which included three five wickets hauls.
On cloud nine with his accomplishment, Bumrah took to his official social media handle and expressed his thanks to the cricket fraternity with a photo of him posing with the trophies.
"Grateful and honoured to be taking these two awards home tonight," wrote Bumrah.
As soon as Bumrah shared the picture, commendatory messages poured in acknowledging the pacers contributions to the Indian side.
"Congratulations sir.. I wish all your dreams come true.stay healthy and happy.love you sir💝💝," wrote one fan.
"U are the LEGEND..! for us 😎❤jaasiieee U DESERVE MORE and moree awards 🏆...dear..MORE is yet to come... So keep rocking my JAAN 😘😘😘😘😘KEEP SMILING ALWYS u are the MOTIVATION FOR ME.. AND MILLIONS OF HEARTS! 😎❤ more and more love to YOUU...(sic)," wrote another.
However, one particular wish from the pile stood out. Yuvraj Singh, in his usual sally mood, commented on Bumrah's post by taking a slight dig at the bowler.
"Jassi has de thoda no ones taking your trophies away! Jokes apart many congratulations you truly deserve it (Jassi smile more, no one is taking your trophies away)".
Also Read: Virat Kohli comes up with savage reply on Ishant Sharma's post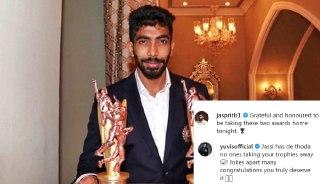 Also Read: MS Dhoni blows gaff on his distressing run-out during the World Cup 2019 semi final