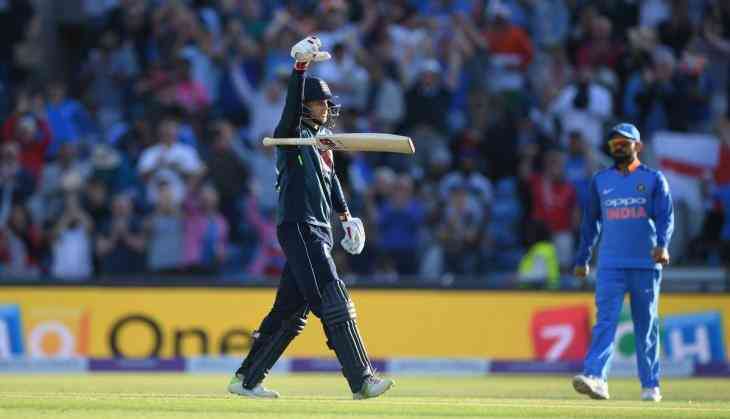 England Star batsman Joe Root's 13th ton clinch the ODIs series against Virat Kohli's men at Leeds.
Now All eyes are now on the gruelling Test series ahead to be played in Birmingham.
Englishmen scored 216 runs in the three matches with 113* runs and 100* runs in the second and third ODIs respectively.
Englishmen Joe Root showed his teammates on how to score runs against Kuldeep Yadav and his spin twin Yuzvendra Chahal, finishing unbeaten in the last two games.
As per reported in News18 "I looked at the three balls I faced and got out to one thing that's very easy to do is over-analyse things, over-think things," said Root.
"I felt like I was picking him (Yadav) fine and when you look at it for what it actually was, both games my movements weren't quick enough and I wasn't getting close enough to the ball, either going forward or back".
England batsman Joe Root revealed that his team-mates too had criticised his on-field actions. "It was something that I immediately regretted. I've not heard the end of it, it was literally the most embarrassing thing I've done on a cricket field. I don't think it will be the last I hear of it from the group -- they've been hammering me." Joe Root was quoted as saying by icc-cricket.com.
Remember that 🤜 🎤 ?

Root is wishing he'd never done it!https://t.co/Bx7IYYiVG6 pic.twitter.com/g0Q1ZV224z

— ICC (@ICC) July 19, 2018
"It's something we are trying really hard to replicate within the Test team," Root said. "Hopefully over time, and it's not something that will happen overnight, we'll see big improvements long-term within the group.
"It's about putting the hard yards in and doing that extra bit of work and sometimes doing the stuff that doesn't always make you feel good but ultimately will make you a better player."
Also Read: India Vs England: After Shah, Rohit Sharma shared a emotional message that will fill your eyes with tears