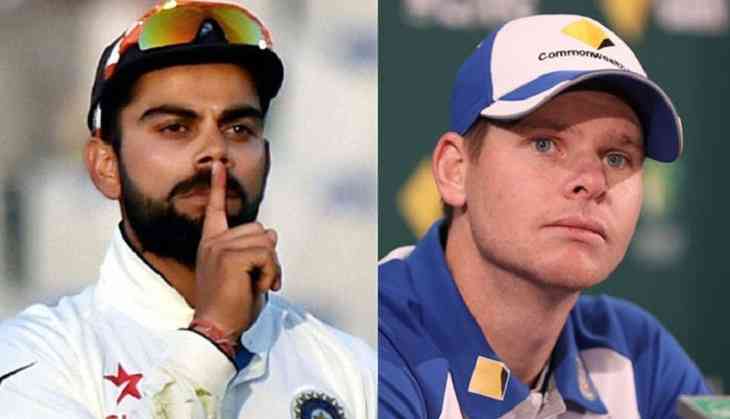 The 'run machine' of Indian cricket team Virat Kohli introduced a storm in the entire cricket world by hitting back to back double centuries in the recently concluded three-match Test series. In the final Test match against Sri Lanka, Virat Kohli equaled the records of cricket great Sachin Tendulkar and Ricky Ponting by hitting the sixth double centuries of Test career. By completing his sixth double century Virat Kohli had also shattered the record of Brian Lara who held the records of five double centuries by a captain.
In the series decider match Virat became the 11th overall player by completing 5000 runs of his cricketing career. Even though 2017 was totally Virat Kohli's year in terms of record, yet when it comes to the top spot in the ICC Test ranking Aussie skipper Steve Smith is ahead of India captain.
The debate about who is the better Test batsman Virat Kohli or Steve Smith has been going on for quite some time and the newest cricketer to join this debate is none other than Aussie cricket legend Shane Warne.
While talking to cricket.com.au Shane was quoted as saying, "It's hard to split Virat Kohli and Smith for the title of No.1 Test batsmen in the world at the moment and the best players like the battle and are super competitive."
Warner was also quoted as saying that the England team should be careful while sledging Steve Smith.
"I'm not sure I'd be sledging him in Perth. If I was England the best thing now would be to not say a word to him when he walks out, just ignore him and give him the silent treatment," he said.
"Engaging him in banter could just ignite the concentration within and lead to a big hundred for the Aussie skipper. It's a bit like when the Australian teams that I played in started sledging Brian Lara – we learnt after the seventh or eighth ton that it wasn't a great plan," he further explained.
Also Read: Here is a list of 17 records shattered by Indian skipper Virat Kohli in 2017