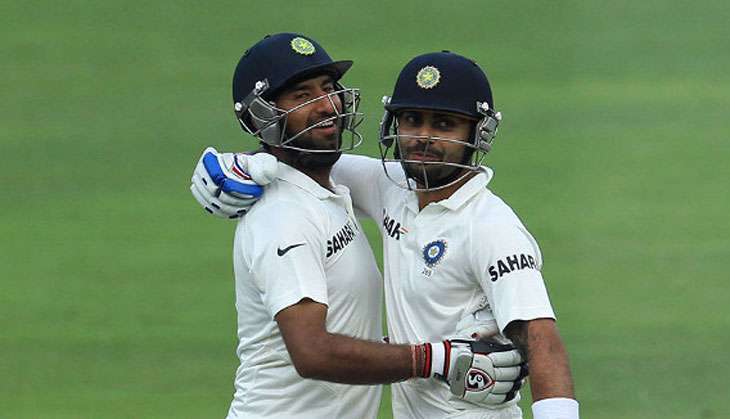 Far from being disheartened by the loss of quick wickets just before close, Cheteshwar Pujara feels India can force a win if they bat well on 12 November.
"The way I started playing shots, I expected that they will be on the defensive mode but when they have 537 runs on board the plan is very simple, first to reach that mark. And obviously we have a bright chance to win the game if we bat well tomorrow," said Pujara who scored an attacking 124.
"The ball will start turning from tomorrow and batting on day five will be difficult. At the moment I dont want to talk too much about it," said Pujara, who himself along with Murali Vijay were dismissed in the final session.
Pujara based his optimism on his deep knowledge of the SCA stadium track and at a venue where he has a first class triple hundred to boast of.
"We are still in a good position once we bat well tomorrow and get a lead of 60-70 runs which will help us in the second innings. It's a good wicket to bat on. I saw some spin, saw a couple of balls turn and bounce. We expect it to be more as match progresses, but our first focus will be to bat well tomorrow. And possibly press for win the day after."
India also lost Amit Mishra in the final over to be 319 for four at stumps, still 218 runs behind England.
Pujara added 209 runs for the second wicket with Vijay who played the ideal foil, scoring 126.