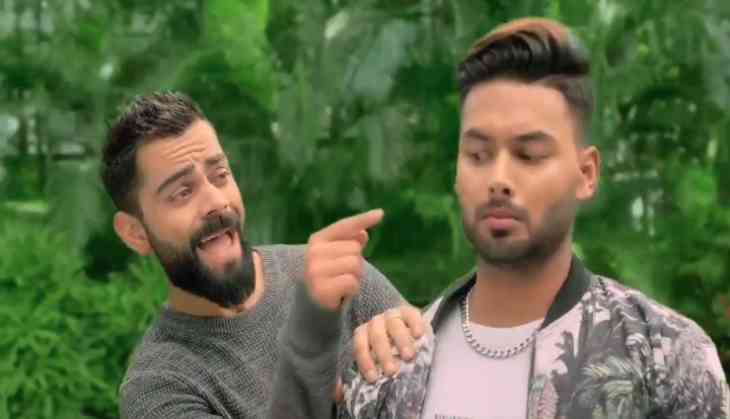 Virat Kohli has achieved a position among the greats of the game with his record-breaking performances and orthodox cricketing shots. Virat Kohli is the richest cricketer in terms of earning and most of his money comes from advertisement. His most recent ad will definitely tickle your funny bones as fans asked for 1 year ban after watching it.
Kohli recently featured in a short commercial alongside Rishabh Pant where he can be seen raping and giving Pant a lesson on pimples. Kohli's lines in rap were, "Walking like a dude, feeling all cool" and "You've got the look, you're going to rule."
12 month bans for both of them please.

pic.twitter.com/9ApERMqF71

— Yas Rana (@Yas_Wisden) May 16, 2019
Kohli and Pant were part of the recently concluded Indian Premier League. Kohli's team Royal Challengers Bangalore finished at bottom of the points table, while Rishabh Pant's Delhi Capitals reached semi-finals for the first time since 2012 under Shreyas Iyer's captaincy.
Rishabh Pant is the emerging star from Indian cricket and has got many followers. Pant was not included in the 15-member World Cup squad after which the cricket fraternity was divided in favour and against the decision. Dinesh Karthik was chosen over the young gun and the Indian skipper Virat Kohli defended the decision by saying that Pant lacks the experience and composure of Karthik.
Team India will embark on their World Cup journey on May 22 and the Kohli-led squad will play two warm-up matches against New Zealand and Bangladesh before the tournament starts. India will play their first World Cup match on June 5 against South Africa and then against Australia and New Zealand before meeting their arch-rival Pakistan on June 16.
Also read: Not convinced with Hardik Pandya as fast bowler, says Gautam Gambhir